SWAMP 8 Channel Microphone Signal Splitter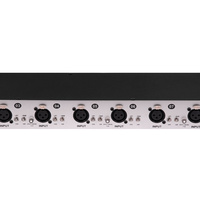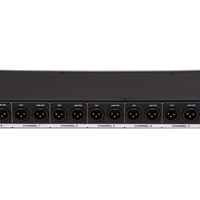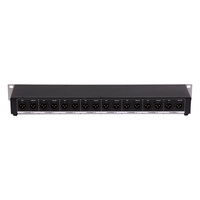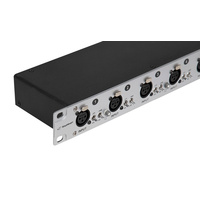 SWAMP MS8-MK2 Balanced Microphone Splitter
The 8 channel microphone signal splitter from SWAMP provides 8 Neutrik XLR mic inputs and a total of 16 XLR outputs. Each individual channel input has a pair of outputs, one that is a direct output (allowing phantom power to be carried through to condenser mics and DI's), the other an isolated transformer output.
Splitting The Signal
Ideally, each channel of the MS8-MK2 is used to split one signal two ways. Most common use would be to have a signal from a microphone being sent to a mixing desk via the direct out, and to a monitor or recording mixer.
Link Inputs for Stereo Devices
By pushing the input link button, you can combine two input signals into one. Effectively taking a stereo signal and merging into a mono signal. This merged signal is then be split into two identical signals.
Quality Neutrik Inputs Connectors
The SWAMP MS8-MK2 is built using 8 Neutrik input connectors to ensure the most reliable connection for your microphone. The high quality locking tabs on the NC3FAAH XLR inputs can withstand regular use and give protection from accidental pull outs.
Features:
Rack Mountable 19", 1U
8 channels with 1 XLR(m) input and 2 XLR(f) outputs
Switchable Input link
Ground Lift Switch per channel
-40dB Pad on each channel
Rubber Feet
Neutrik XLR (NC3FAAH) connectors on front panel
Specifications:
Frequency Response: 20 Hz to 20KHz, ±0.25 [email protected] ·15dBu, -3 dB at approximately 165KHz
Total Harmonic Distortion: <0.26% @ -15 dBu input, < than 0.1% from 45 Hz to 20K Hz @ -15 dBu . 0.002% Typical at 1K Hz, -15 dBu input
Phase Response:

< 10 degrees at 20K Hz {ref. 1K Hz)

Input Impedance 150Ohms
Output Impedance: < 255Ohms
Common Mode Rejection Ratio: >105dB @ 60 Hz, > 80 dB @
Voltage Insertion Loss: 3K Hz Approximately 2 dB at 1K Hz
Maximum Input level 1%THO: ·1.4 dB at 20Hz, +3.5 dBu at 30Hz, +9.4 dBu at 50 Hz
Dimensions:1.75•H x 19"W x 3.75•0 (.4.4.5mm x 482.6mm x 95mm)
Weight: 1.7Kg
Good and affordable mic splitter

By:

Jake Bylsma

on 15 July 2016

Very happy with these, will be purchasing at least one more as soon as they are in stock. Very affordable transformer based splits, professional quality front facing connectors. Some clearer labelling regarding which outputs are direct and which outputs are transformer based would be good. "Out" and "Link Out" weren't entirely clear.




5

(5)