Beta Aivin BM6 Guitar Amp 10W - with Effects + Mic Input - Battery Powered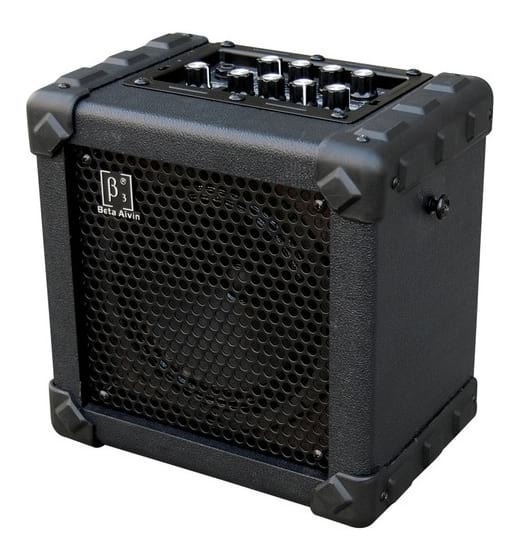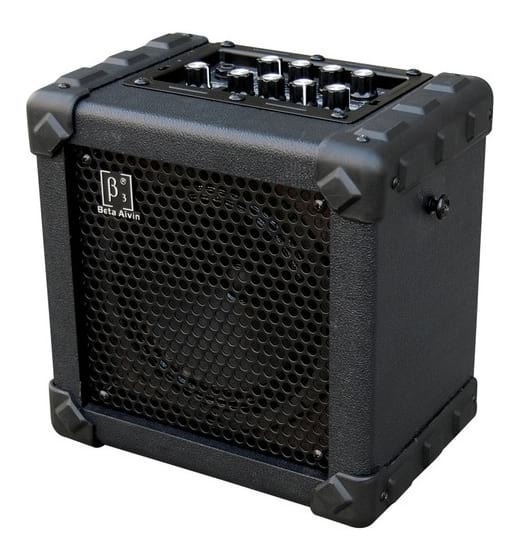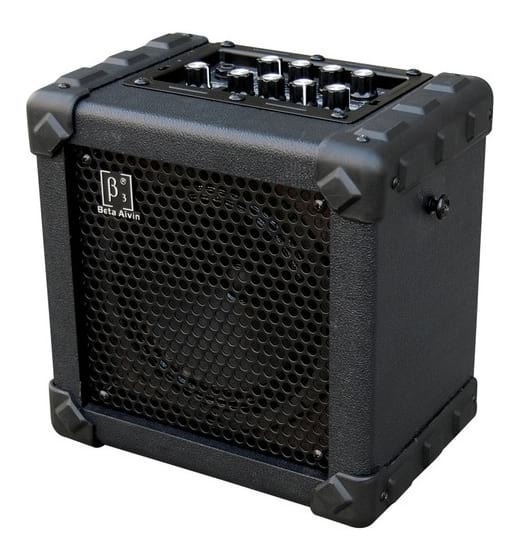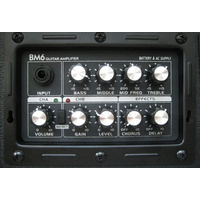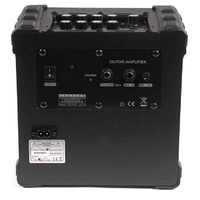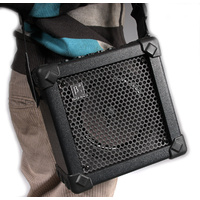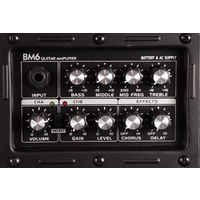 Portable Guitar Amplifier with Effects and Mic Input - 10 Watts

Compact, Portable
A compact, yet great sounding amp, perfect for practice, jamming with friends and especially busking. It can be plugged into a power point like a regular amp, but if you want to take it busking or camping, simply load up the AA battery compartment and it becomes a 100% portable rock box!
Packed with Features
Includes 2 selectable channels, 3 band EQ, built in effects, separate mic input and level control and even an 3.5mm auxillary input to plug in your iPod or MP3 player. Features you would normally find in a higher price-range amp!
Specifications:
Portable Amplifier with Wooden Body

6.5" Beta Aivin Guitar Speaker

Dual Selectable Channel(Clean/Drive)

3 Band EQ(Bass, Middle[Freq]Treble)

Built-in Effects (Chorus, Delay)

MP3 Input

Headphone output

Microphone input with separate volume control

Model : BM6 Battery Powered Guitar Amplifier

Power: 10W RMS (4 Ohm)

Weight: 3.4Kg

Size: 235(W)x155(D)x235(H)mm

Battery Power : AA x 10 (not included)

Includes : AC power cable and charger (built in)

Colour : Black
---
Custom Label: BA-BM6
SKU: BA-BM6
Shipping Weight: 3.7000
Great value, perfect for busking.

3 February 2017

I had an initial scare with the Mic socket not working, but it turned out it was just a bit loose and hadn't been screwed in all the way, once I figured that out was fine. You can have an instrument (volume on top), a mic (volume on back) AND an extra device like an iphone for backing tracks (volume controlled by external device) all going through this at the same time, which makes it perfect for what we needed it for: my daughter busks with a mic and an electric uke. It's very portable and looks to be tough. The 10W is amazingly loud. The effects are a bit noisy, but good enough if you just want to change up your tunes a little bit. Easy to turn them off and add your own pedals instead, of course. Overall I'm really happy with the purchase and recommend this system over a Roland 5W for example. Finally, remember you'll need to spend roughly $55 extra on rechargeable AA batteries if you want it to be portable.




(5)
By:

Hendrik Lupgens

on 6 November 2015

Very satisfied - compact unit that performs well - good sound and controls at a terrific price.




(4)
By:

picipico

on 29 October 2015

bass doesnt reproduce good, and chorus and delay are very noisy.




(4)
By:

Simon cole

on 13 April 2015

In terms of the very decent sound, functions, build quality and price this model is unmatched inmho. Really pleased. Good service too




(4)
By:

Ralph Barrow

on 30 October 2014

Very good amp for the price very little noise with no effects used but does have some noise when using the effects. I've tested out all the functions, which all work well. I purchased NiMH batteries (2300 mAh) from Aldi for $6.99 for a pack of 4 (3 packs required to obtain 10 batteries) and the amp works the same as if on power, with plenty of volume. At this time I'm not sure how long the power will last but I have used it for around 5 hours and they are still going. The charge circuit was used to bring the batteries up to full power, which was a bit slow but worked OK, should not be a problem if left to charge overnight. The MP3 input does not have any volume control on the amp but needs to be set from the MP3 player. This will allow you to set up the guitar and mic volumes to suit if jamming with the MP3 input. Overall I am very impressed with this little amp.




(4)