Daphon E20DS Distortion Guitar Effect Pedal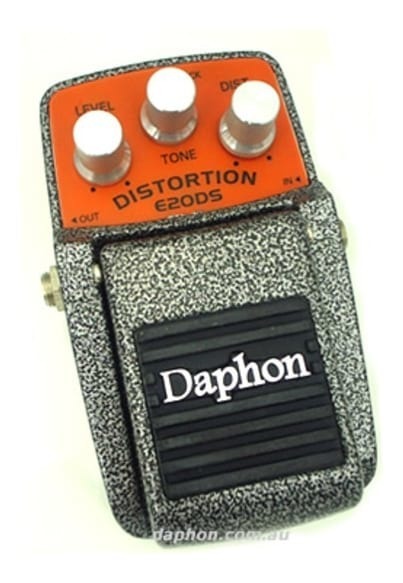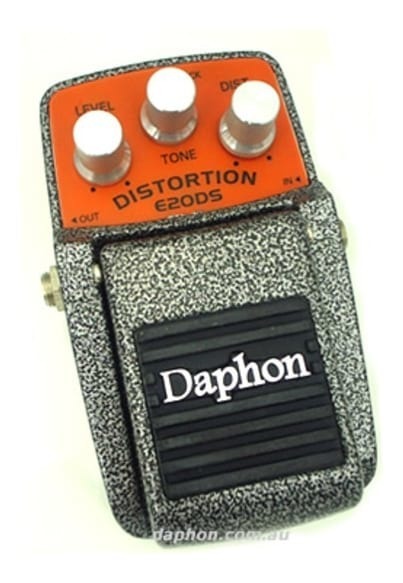 Daphon E20DS Guitar Distortion effect pedal. The E20DS is a versitile distortion pedal that can be configured to produce a range of classic distortion sounds with varying tones to suit many types of music from soft rock and blues to heavy metal.
Level Knob
This is the volume control of the pedal while it is turned on.
Tone Knob
Controls the tone of the sound. Keep it low for warm bass heavy sounds or turn it up bring out the higher frequencies.
Dist Knob
Controls the depth of the distortion and the length of sustain.
Pedal Information:
Suitable for Guitar and Bass

Runs on a 9v Battery that is included

Can also run on a 9v ac adapter (please check our store)
Single Input and Output (1/4" Jack)
Heavy duty metal casing
Rubber sole to prevent slipping
Although these pedals are designed for electric guitar, their analog design makes them compatible with most other electric instruments, including microphones.
Visit this link for information about all types of guitar effects and what they actually do.
By:

Patrick Russell

on 6 December 2013

The Daphon distortion effect is an effective equipment for a nice heavy fuzzy sound. I am using it in my private practice for some Gary Morre & Dio songs; the sound produced is real great.




5

(5)
By:

Alex Maloney (maloney91@hotmail.com)

on

This is a great pedal for the price. Super tough case, it wont ever break. Sound is good too, not a great deal of give with the settings, but for a cheap pedal, it delivers far more than you expect. As a beginners pedal, or as a back up for an experienced gigger, this is a great choice.




5

(5)