Daphon E20OD Overdrive Guitar Effect Pedal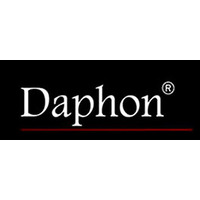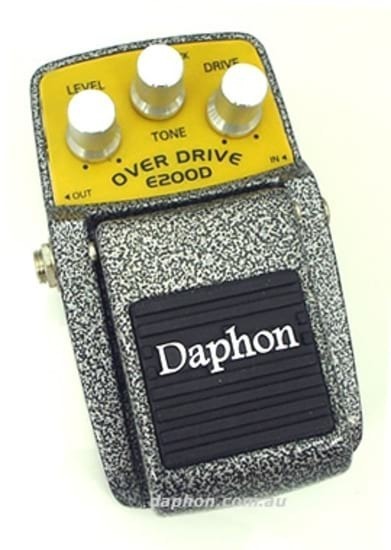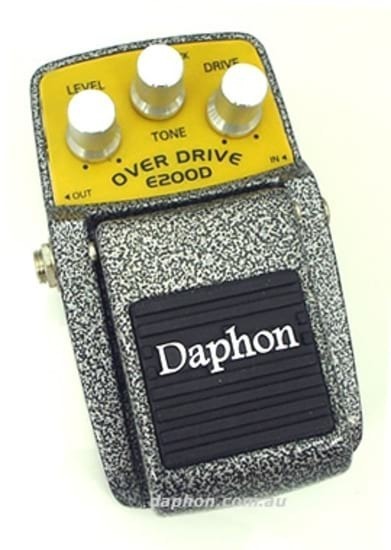 Daphon E20OD Guitar Overdrive effect pedal. The E20OD is a warm and transparent sounding analog overdrive that imitates an overdriven tube amplifier, giving smooth distortion that gives your sound edge without destroying your original tone. Ideal for blues and rock.
Level Knob
This is the volume control for the pedal.
Tone Knob
Controls the tone or equalization of the sound. Keep it low for a bass heavy sound or turn it up bring out the treble.
Drive Knob
Controls the amount of overdrive, enabling a wide range of possible distortion sounds.
Pedal Information:
Suitable for Guitar and Bass

Runs on a 9v Battery that is included

Can also run on a 9v ac adapter (please check our store)
Single Input and Output (1/4" Jack)
Heavy duty metal casing
Rubber sole to prevent slipping
Although these pedals are designed for electric guitar, their analog design makes them compatible with most other electric instruments, including microphones.
Visit this link for information about all types of guitar effects and what they actually do.

By:

Ian Gordon

on 17 June 2016

Looking for a budget overdrive pedal, I read the revues and decided to give it a go. And I wasn't disappointed. A great variety of tones and and a nice clean sound.




5

(5)
By:

Bradley Hunter

on 28 March 2014

Back in 2007 I bought a package deal of four Swamp (Now Daphon) pedals. Amongst them was the E20OD Overdrive pedal. After seven years of pretty hard use it finally went to the great gig in the sky. I missed it so much I bought exactly same pedal as a replacement., albeit with a different brand name - Daphon. Same pedal, same great sound. Swamp/Daphon pedals have to be the best value pedals by far. I frequently get asked about them by other musicians at gigs. They nearly fall over backwards when I tell them how little they cost.




5

(5)
By:

Neil Porter

on 26 March 2013

I had been looking for something to drive my Tele sound for a while and came across this little gem after our bass player bought one. It works perfectly for me - I am 100% happy with it.




5

(5)