Daphon E20TR Guitar Effect Pedal - Tremolo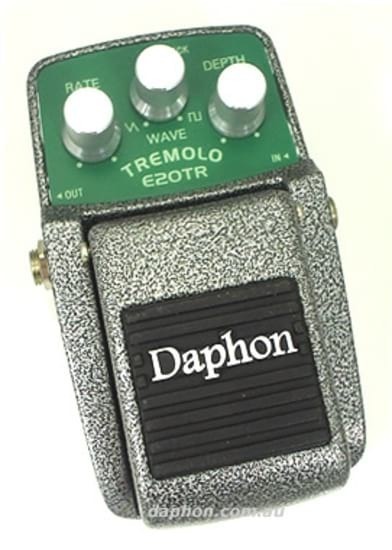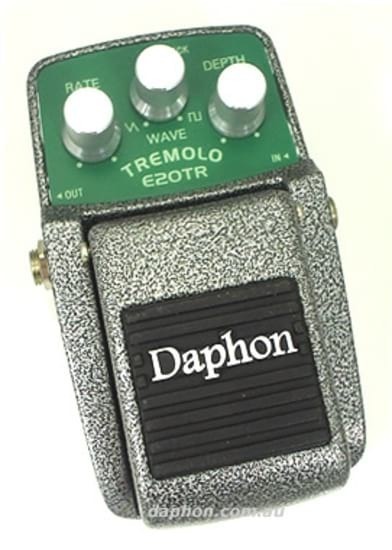 Be The First To Review This Product!
Help other SWAMP Industries users shop smarter by writing reviews for products you have purchased.
Daphon E20TR tremolo effect pedal. This pedal gives the effect of rapidly increasing and decreasing the volume to provide a kind of quivering to your guitar sound. You can vary the type of wave used to modulate the signal and also change how fast and how much the volume varies.
Rate Knob
Controls the speed of your tremolo effect.
Wave Knob
Changes the shape of the wave used to modulate the output volume. Ranges from saw (zigzag shape), sin (rounded), to square (straight on and off rapidly)
Depth Knob
Controls how much the volume actually varies, or the intensity.
Pedal Information:
Suitable for Guitar and Bass

Runs on a 9v Battery that is included

Can also run on a 9v ac adapter (please check our store)
Single Input and Output (1/4" Jack)
Heavy duty metal casing
Rubber sole to prevent slipping
Although these pedals are designed for electric guitar, their analog design makes them compatible with most other electric instruments, including microphones.
Visit this link for information about all types of guitar effects and what they actually do.
---
Custom Label: D-E20TR
SKU: DA-D-E20TR
Shipping Weight: 0.8000