Beta Aivin U400S - Guitar Pedal Board and Case with In Built Speaker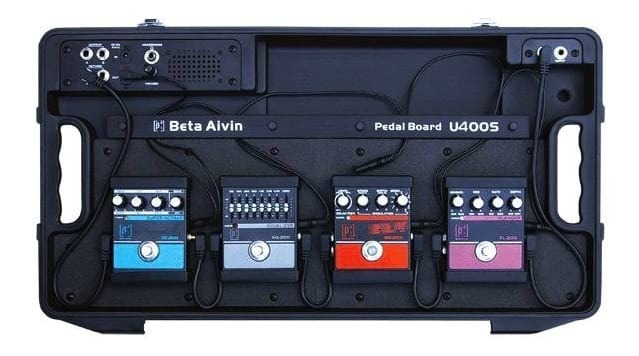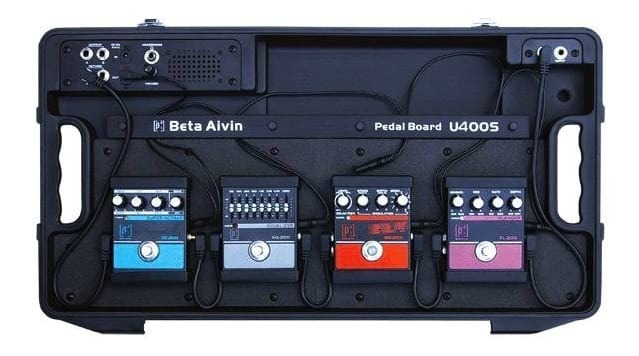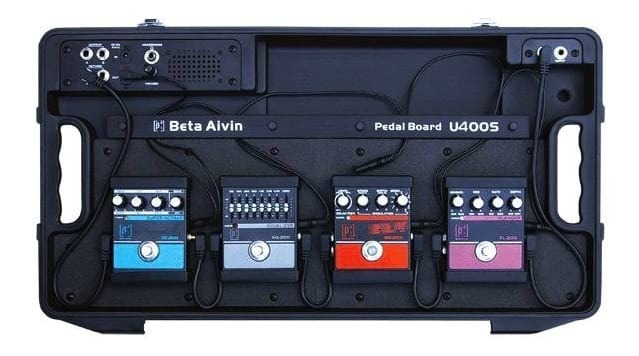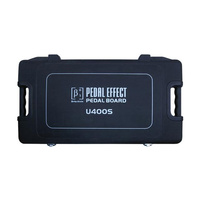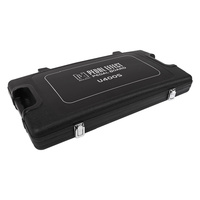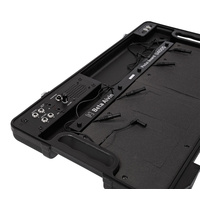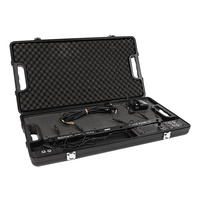 Be The First To Review This Product!
Help other SWAMP Industries users shop smarter by writing reviews for products you have purchased.
Beta Aivin U400S Guitar Effect Pedal Board Hard Case
With so many features packed onto this effects pedal case, Beta Alvin have produced a hard case that far exceeds most other similar items on the market. Aside from the DC power and 6 point daisy chain, the U400S has 2 installed output and returns for effects loops, a dedicated input and output, plus the most remarkable speaker and headphone amp to appear in a pedal case.
Built in Speaker and Headphone Out
What other pedal board has an in built speaker and headphone output complete with volume control? Beta Alvin have incorporated this wonderful feature into their U400S that lets you play through and hear all your pedals even when you don't have an amp. Great solution to cut down on noise when practicing in your bed room, or a novel idea for guitar techs and players alike when prepping your set up before a show.
Suitable for 4 Large Pedals
A tough, hard foam insert is securely fastened to the inside of case that will provide an easy and solid bed for placement for your pedals. You will be able to fit 4 medium to large sized pedals, simply by utilising the preprepared spaces in the foam. Alternatively, you could fit a few extra small one by custom marking and cutting out the foam to suit.
Fully Cabled and Powered
The U400S is supplied with enough quality cables to get you started. There are 3 small 1/4" gold tipped jack cables with right angle connectors to join pedals close together, and 3 larger ones for pedals either external to the board or placed in a loop in the case. All power is set up for you, just plug the power adapter included) into the dedicated power input and connect the daisy chain points into your pedals.
Tough and Portable
The super tough molded case is relatively light weight which means it is suitable for gigging and transportation. With all the in built features, set up is so literally a case of putting the case down and plugging in. Simply a must for the the gigging guitarist.
Features:
Super Tough Blow- Moulded Body
Solid Industrial Foam inner
Pre Cut Pedal Positions for 4 pedals
Removable Lid with foam interior
Rubber Feet
Removable metal cable cover
Secure metal latches
Easy pop hard plastic hinges
Built in Speaker
Fits 4 pedals (approx max size 130mm x 90mm x 25mm)
Specifications:
Built in Speaker (4 ohms/1W)
Volume Control
1/4" jack Stereo Headphone output
1 x 1/4" jack main input
1 x 1/4" jack main send output
2 x 1/4" jack output
2 x 1/4" Jack returns
Power Supply: 9V DC output, AC adapter (negative centre)
Power Adapter: 9v 1000mA
6 pin Parallel DC cable
3x 30cm and 3x 50cm patch cable with 1/4" right angle gold tipped jack

Weight: 4.2kg
Pedal Tray Dimensions: 205 mm (L) X 640mm (max width), 540mm (min width)
Outer Dimensions: 680mm (L) x 375mm (W) x 105mm (D)

---
Custom Label: BA-U400S
SKU: BA-U400S
Shipping Weight: 4.5000