RETURNED Marani DPA880AMT - 8x8 DSP Speaker Processor Matrix Mixer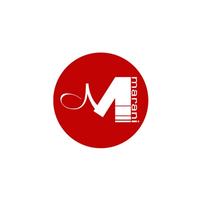 IMPORTANT: This is a customer returned product. It was returned within out 30-day change of mind period as the item was not suited for the intended purposes. The original power and USB cables are included, though no phoenix cables are supplied. Original box and packaging, plus extra padding, included. Some minor signs of use on product, but unit is in 100% working condition. 1 year warranty included.
Marani 8 in - 8 out Digital Automatic Matrix Mixer.
Marani DPA880AMT - 8 In - 8 Out Digital Matrix Mixer
The DPA880AMT is an intelligent and all encompassing Matrix Mixer designed for professional applications and installations in conference centres, council chambers, meeting halls, exhibition centres, places of worship and educational facilities where various sections of a building or broadcast will require multiple audio feeds. With Ethernet connectivity, the Matrix can be controlled using software on a computer or via the DPA880AMT iPad app. Alternatively engage the NOM function to automatically adjust levels. Once set up, the DPA880AMT is so streamlined that it will practically control all your conference audio for you.
Parameter Controls over all 8 Inputs and 8 Outputs
Each of the 8 individual inputs has a 3 band parametric EQ, gain control, noise gate and feedback eliminator that are easily adjusted to ensure the cleanest signal from the microphone. The 8 output channels are armed with a 5 band parametric EQ, selectable crossover filters, HPF and LPF, RMS compressor limiting, an adjustable delay function, and can be placed in the auto mixing function and NOM mode. The best way to access all functions are to connect a PC direct to the DPA880AMT via Ethernet or USB, where all functions are easily adjustable on a screen.
Complete Control using a Computer or iPad
Remote control over audio and vision is imperative in the modern age, and Maraini have embraced this concept by producing easy to use software that enables the Matrix Mixer to be controlled remotely via a computer (using an Ethernet connection) or iPad by downloading the DPA880xT app from the Apple app store.
Auto-Mixing Function and Ducking Process
The impressive Automixing function will automatically adjust input level to make operating easier using either NOM (Number of Open Mics) attenuation function or Gain Sharing algorithm. In addition a Ducking process enforces a "priority order" of open microphones, where it identifies the high priority inputs and attenuates lower-priority inputs to ensure constant audibility of the main presenter.
NOTE: Phoenix terminal blocks are NOT included.
Features:
8 Mic/Line inputs, 8 outputs with full matrix mixing
24bit converters coupled with 48Khz sample rate
3 band parametric equalization with Low/High pass filters per input channel
5 band parametric equalization per output channel
Peaking, Low/High Shelving with variable Q
Gain Control, Noise Gate, Feedback Eliminator (Mic input only) per input channel
Auto-mixing functions include NOM (number of Open Mics) attenuation and Gain Sharing algorithm
Adjustable Delay time up to 380 ms per output channel
Each output features a precision dynamic range controller composed of a Peak Limiter and RMS Compressor with selectable ratio and variable knee
Front panel USB connector for direct PC communications
Ethernet interface, RS485 connection for system setup, monitoring and control via manageable remote PC software
Front panel interactive LCD display for local access and configuration
Front panel 6-LED status indicators per channel
4 digital input ports for additional 4 preset selections with priority
4 digital output ports for triggering external devices
Simultaneous control up to 32 units via PC software
DPA880xT software for Apple iPad® device
Optional Marani CP4 Wall Panel control allowing selection of 4 assigned presets and master volume control
Security Lockout
Specifications::
Frequency Response: 20Hz - 20kHz +/-1dB
Connection: 8 Electronically balanced inputs and outputs
Maximum Input: Line: +18dBu. Mic: -18dBu
Maximum Output: +18dBu
AD/DA Converters: 4x AK5385B 24bit, 1x AK4358 24bit
DSP Engine: Dream SAM3716, 24bit (data) x 96 bit (coeff.)
Signal to Noise Ratio: >104dB(A)
THD: <0.5% at 1kHz 0dBu
Input and Output EQ with Q/BW, Filter Gain, HPF/LPF
RMS Compressor Limiter, Delay, Feedback Eliminator
Device Presets: 6 User Presets + 4 by using S1-S4 digital input ports
Connectors: 12pin and 4pin Phoenix, 3 x RJ45, USB (B-type), IEC
Output Level: XLR: +8dBu max
Power: 90-240 VAC - 50-60 Hz - 40W
Dimensions: 483 x 44 x 229 mm (will fit 19" 1RU case)
Weight: 3.5 kg
iPad Control Software Screenshots
Computer Control Software Screenshots
Overview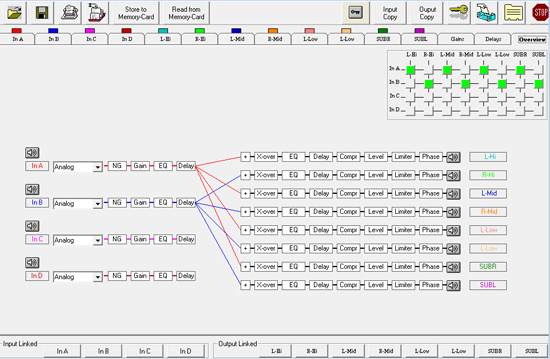 Gains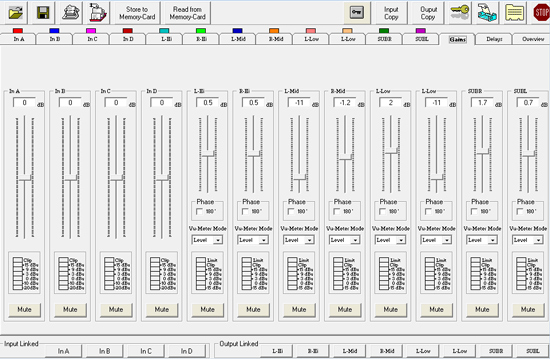 Input Controls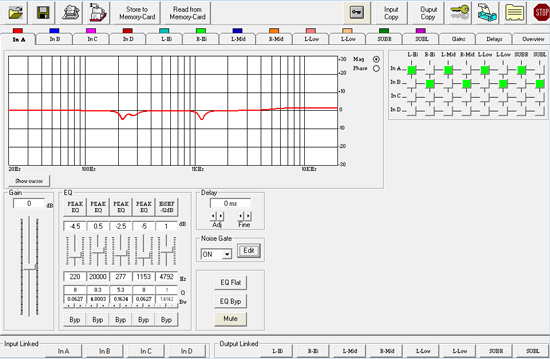 Software Delays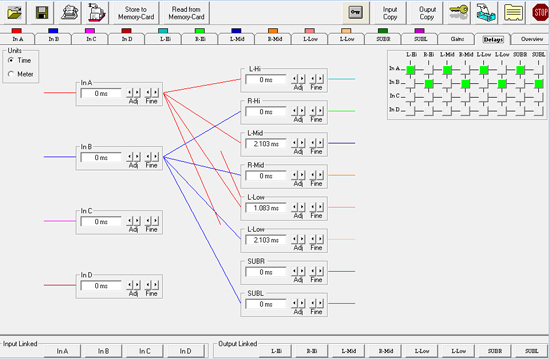 Parametric EQ


EQ Controls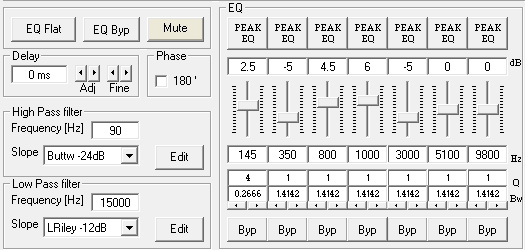 Noise Gate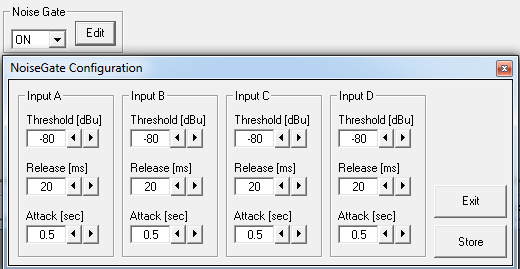 Compressor and Peak Limiter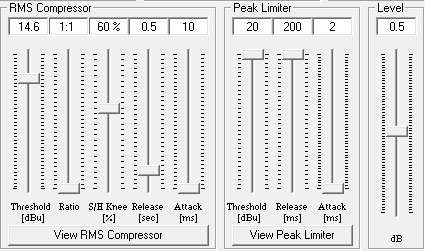 Be The First To Review This Product!
Help other SWAMP Industries users shop smarter by writing reviews for products you have purchased.