SWAMP CP202 - Stereo Gated Compressor / Limiter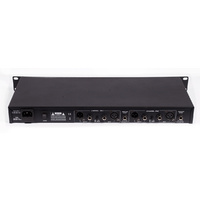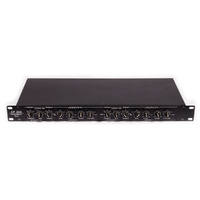 CP202 Stereo Gated Compressor/Limiter
Compressors are an essential part of any sound engineer's tool kit. Use this compressor as an insert unit compressor to control the dynamic range of (up to two) individual instruments, bringing out the low volume intricacies of the music. It can also be used as a stereo compressor for master output to rein in unexpected jumps in volume, making for a smoother listening experience for your audience.
Compressor
Compressor controls include Compressor Threshold, which determines at what level the compressor kicks in, as well as Ratio, Attack and Release controls that control the actual effect of the compressor on the input signal.
Noise Gate
The CP202 features a noise gate function. The Gate Threshold control determines the dB level at which the signal will pass through the compressor and to the rest of the mixing desk. This allows the sound engineer to cut all signal from microphones that are not being used, effectively 'muting' them without having to mute the channel on the desk.
Stereo Coupling for Left/Right Master Compression
The Stereo Coupling button turns on the stereo mode of the compressor. In this mode all controls except the input gain, will be controlled using only the left side knobs and will affect both signals. While the input gain remains independently adjustable on both channels.
Rack Mountable
Can be mounted in all 19" rack units (1RU). Use multiple units to be able to apply to more channel strips. The back panel features both XLR(f) and 1/4"(f) input plugs and XLR(m) and 1/4"(f) output plugs for each channel.
Cost Effective Pro-Audio
In stores, a 2 channel compressor like this could set you back thousands of dollars! However being relatively cheap is no reflection on this unit's performance. It's a solid unit that will last years of use on the road. No sound technician should be working without a compressor unit in their rack case, and at this price, who could afford not to?

Why Compress?
A great show is one at which the audience experiences a smooth yet dynamic listening experience. Large drops or jumps in volume make a listener less comfortable and can potentially damage hearing in extreme cases.
Dynamics is a key part of music, and musicians will often employ very quiet sections in taking the listener on their journey. By applying compression you can reduce the difference between soft and loud sections. Essentially the louder sections are compressed in volume, and then the whole lot is brought back up. The result is that softer parts that listeners may strain to hear are now clearly heard, while the unexpected louder sections don't startle them, all while maintaining musical integrity.
In terms of individual instruments, the usual suspects in need of compression are kick drum and snare drum, guitar, and vocals. Simply use an insert cable plugged into the "insert" jack on your mixer's channel strip to sidechain the compressor into the mix.
Main Features:
Professional Stereo Compressor
Stereo Coupling option
Noise Gate (Gate Threshold)
Includes Side Chain inputs and outputs for insert functionality.
Balanced Inputs and Outputs (Line Level signals)
Specifications:
Frequency Response:

Flat

1/3-Octave ISO Spacing From 20Hz to 20KHz

Bandwith

Constant Q (Accuracy 5% Center Frequency)

Max Level

+22dBu

Input Impedance

±6dB or ±12dB(Switch Selectable)

Output:
Impedance

Balanced

+4dBu

Balanced: 200?
Unbalanced: 100

-10dBV

Balanced: 1.5k
Unbalanced: 750

Maximum Level

+21dBu into 600

Side Chain Insert:

Input Impedance

>10k

Output Impedance

?2k

Maximum Level

Distortion + Noise

<0.2% any amount of compression at 1kHz

Inter-modulation Distortion:

2<0.2% SMPTE

Noise

<-93dBu unweighted

Dynamic Range

>114dBu unweighted

Crosstalk

<-93dB @ 1kHz

Common Mode Rejection

>40dB (Any Frequency)

Stereo Coupling

True RMS Power Summing

Threshold Characteristics:

Selectable OverEasy or hand knee

Exp/Gate:

Program Dependent Threshold
Compressor: -40 to +20dB
Expander/Gate: -60 to +10dB


Ratio
Compressor: 1:1 to INFINITY:1
Expander/Gate: 1:1 to 4:1
Attack Time:
Compressor

Scalable Program Dependent

Expander/Gate

<100 usec

Release Time:
Compressor

Scalable Program Dependent

Expander/Gate

Program Dependent

Power Requirements:

15watts,100VAC 50/60Hz,120VAC 60Hz 230VAC 50/60Hz

Dimensions

485x146x44.5mm

Weight

2.3Kg
Apology

By:

Roger Mileti

on 29 September 2016

I did a review back in June 2015 for a compressor and EQ, both awesome pieces of equipment as I mentioned in my review. I just come back on noticed I mentioned I bought these items for $103 each, which was a mistake on my behalf, should have been $130 each, a typo error...my apologies to the seller and any buyers. And I still maintain, great units at current prices...




5

(5)
By:

Dave -

on 18 March 2016

Great unit will buy more just wish I could have gotten one for $103 as someone else stated they paid for theirs - still not bad for the price - <EOL>Have a unit running in a podcast setup with the mikes on one side and the Digicarts on the over keeps all the levels in check nicely. <EOL> <EOL>Does a fantastic job of keeping the sound of a PC fan out of the mike mix




5

(5)
By:

Dave -

on 18 March 2016

Great unit will buy more just wish I could have gotten one for $103 as someone else stated they paid for theirs - still not bad for the price - Have a unit running in a podcast setup with the mikes on one side and the Digicarts on the over keeps all the levels in check nicely. Does a fantastic job of keeping the sound of a PC fan out of the mike mix




4

(4)
By:

Mr. Marc Scully

on 24 July 2015

Very happy with my new SWAMP CP202 - Stereo Gated Compressor / Limiter. I've used it in my studio for tracking stereo guitar + kick & snare. www.studio57.com.au/recording




4

(4)
By:

Roger Mileti

on 10 June 2015

Recently purchased this compressor along with EQ for my guitar rack. I must say I'm impressed with both items. Amazing results and for only $103 dollars each. As others have mentioned, don't let the price fool you, these are great units and a bonus for any sound aps....!




4

(4)