Sterling S.U.B. Series AX3 TBK Electric Guitar - Trans Blue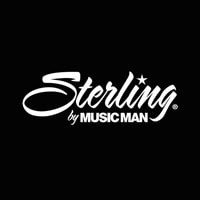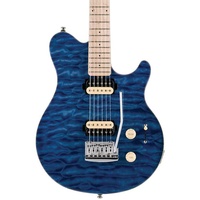 $439.99
Sold Out
Stock Due: late November
Music Man Sterling S.U.B. Series AX3 TBL Electric Guitar with Tremolo Bridge - Trans Blue
Stand Out With a Classic Guitar
Based on the design of the Music Man Axis guitar, the S.U.B. Series line of Sterling Guitars was built with quality and performance in mind, without the price tag. The dual humbucker pickups offer tones from the "twang" of a single-coil, to that huge humbucker rock sound. With it's satin neck finish and quilted maple image top, the SUB AX3 not only plays great, but looks great too. Cream controls and chrome hardware make this guitar stand out from the rest.
Built For Extreme Playability
The unique design of the AX3 offers comfortable, smooth playing. The asymmetrical neck shape provides enough width for grip while being thin enough for ease of use along the whole 25.5" scale maple neck. Medium sized frets across the maple fingerboard will give you all the room you need for any playing style, simple or technical, and the sculpted body cutout will allow you to reach all those higher frets. The neck and body are mounted using a sturdy 5 bolt connection, all contoured and carved to provide the best possible playing experience.
Dual "Zebra" Humbucker Pickups
Featured on the Sterling AX3 are 2 high output "Zebra" coil humbucking pickups. The unique wiring of these pickups results in 5 versatile, individual tones by using the 5-way pickup selector switch. Different combinations suit a vast range of genres, and can give you that low-rock crunch, or high-blues tone.
All There in One Guitar
Tremolo Bridge, single volume and tone controls and stunning black quilted maple top with contrasting cream/chrome hardware, the Sterling S.U.B. Series AX3 has it all. An easy to access truss rod adjuster makes the maintenance and modification on the guitar a quick and simple process. The smooth "heel" of the tremolo bridge provides comfort for the player, as well as quick access to the tremolo/whammy bar and guitar controls.
The Sterling S.U.B. Series AX3 is built to stand out with an original, classic design that is familiar to all fans of great guitars.
Features:
Solid hardwood body
Transparent blue quilted maple top image
25.5" scale maple neck w/ maple fingerboard
Medium frets
Smooth satin neck finish
2x humbucking pickups
5 way selector switch
Easy access truss rod adjuster
5 bolt neck joint
Be The First To Review This Product!
Help other SWAMP Industries users shop smarter by writing reviews for products you have purchased.