SWAMP Heavy Duty Wheeled Trolley / Trailer for Rack Case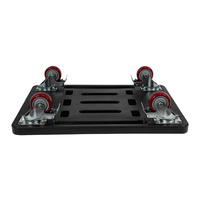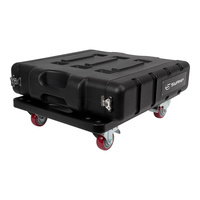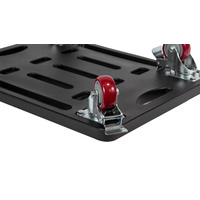 SWAMP Rack Case Transport Trailer
Made from the same durable material as SWAMP's heavy duty LLDPE rack case range, this trailer / truck is specially designed to transport fully loaded flight cases from A to B with minimal effort. It features sturdy wheel locks and interlocking grooves that mesh perfectly with SWAMP's LLDPE rack case range to provide stability and safety even when stopping on a inclined surface.
Stackable Case Design
The LLDPE cases have interlocking grooves on the top and bottom, allowing each model in the range to be securely stacked with any other model. This design allows for several cases to stack up. With matching grooves in the trolley, large stacks of gear can be carted around in one trip, making the arduous job of bumping in and out much faster and easier.
LLPDE Plastic Trolley Tray
The tray, as with the rack case range it's designed for, is made from high strength 'linear low density polyethylene'. LLDPE is a widely used and highly versatile polymer with high resilience and ductility, making it more resistant to cracking under high loads. In contract to ABS cases, a LLDPE case would 'dent' where an ABS case may 'crack'. In addition, the low temperature manufacturing and recycling techniques make for a more environmentally friendly product than traditional plastics.
Features:
Heavy duty LLDPE and steel construction
Large wheels to handle various terrains
Locking wheels for safety on inclines
Interlocking grooves suited to SWAMP LLDPE cases
Dimensions: 60cm x 45cm x 13cm
Weight: 5.2kg
The nuts fall off

By:

Anonymous

on 9 November 2016

Handy trolley but the nuts fell off on first use. Replaced them with lock nuts (& overkill with Locktite & spring washers), problem solved. Advice for the manufacturer perhaps? SWAMP REPLY: Thank you for the feedback, it is highly valuable to us and we'll be looking into this issue. It is quite possible that you might have received a unit with a manufacturing error. The faults you have described are not typical to this product. Please call us on 02 618 5477 at your convenience and we'll work to resolve this issue immediately. Please do not hesitate to contact us if we can be of further assistance. Regards, Swamp Industries TEL: 02 6188 5477 FAX: 02 8078 4468 URL: www.swamp.net.au Showroom & Warehouse U1, 39 Collie St Fyshwick, ACT, 2609




3

(3)