TC-Helicon Perform-VK Vocal Processor with Harmony, Effects and USB Interface

The Vocal Processor for Keyboard Players
Designed with the keyboard player in mind, the Perform-VK is able to capture and transform your performance with the tools to deliver a polished and perfected sound, live or in the studio. Add depth to your performance with the built-in reverb, echo and doubling effects, and maintain perfect intonation with auto-chromatic pitch correction. Intuitive adaptive EQ, compression, gating and de-essing will help your voice shine, and the onboard vocal harmonizer captures your performance to produce real time harmony accompaniment.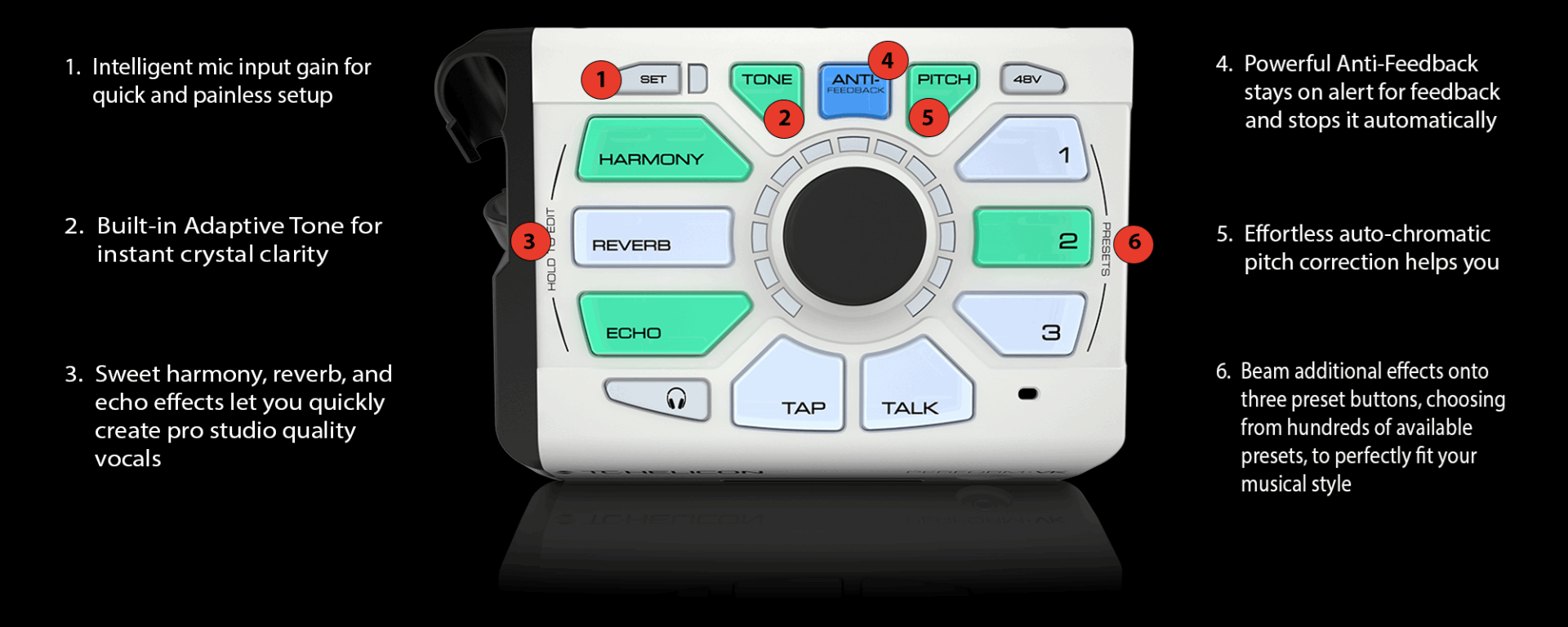 Harmonize Your Sound
Whether you use MIDI or audio from your keyboard, the Perform-VK's powerful vocal harmonizer engine is able to capture chordal information to create up to two voices of real time harmony to accompany your performance. No musical theory required! MIDI note driven harmony is also available for a more complex vocal output, offering direct control of up to 8 simultaneous harmony voices.

Achieve Vocal Perfection
Take control of your sound with the Perform-VK and its wide range of effects. Add dimension and depth to your voice with reverb and captivating echo effects. Create a studio produced doubling effect, or instantly polish your performance utilizing adative EQ, gating, compressing and de-esseing to add instant clarity and professional-sounding results. Eliminate speaker squeals and other unwanted noises with the built-in Anti-Feedback processor.

Set and Forget
The Perform-VK removes much of the complexities involved with most audio gear. In addition to Tone and Anti-Feedback, the Automatic Microphone Input Gain function means that setup is as straightforward as plugging in a mic and holding the 'SET' button while you sing. Ready to rock with the touch of a button, the Perform-VK makes for one of the simplest vocal processors available on the market.

Make a Hit
Infuse your performance with intensity using the TC-Helicon Perform-VK's 'HIT' function. Add additional layers to presets by simply pressing the preset button a second time. Ideal for creating striking choruses or highlighting certain phrases.

Perform-VK App - Just Beam It!
Dive deeper into the world of effects with the free Perform-VK app for your smartphone. Pick and choose from a library of pre-made sounds, including HardTune, harmony and megaphone to instantly transform your sound. Simply 'beam' the sounds directly from your phone to the 'PRESET' buttons on the Perform-VK and you're good to go - no need for any additional accessories!

Practice Without a Mic
When you're not beaming presets to it, the embedded RoomSense mic doubles as a handy vocal input for headphone sessions, when the ideas come faster than getting up and plugging in your regular mic. No need for an external microphone, the Perform-VK has all you need, all in one small unit.

Extended Control
Remote control your sounds with the TC-Helicon MP-75 or MP-76 microphones, and use the Mic Control buttons to roam the stage freely, or let your feet take control with the TC-Helicon Switch-3 or Switch-6, when your instrument is keeping your fingers occupied.

Effortless Recording
When the time comes to record, the Perform-VK's built-in 4-input/8-output USB audio interface makes it easy. Record dry and wet versions of your voice simultaneously, along with harmony voices and keyboard audio. The Perform-VK will take you from songwriting to production easily, with no hassle.

Features:
Direct access to high-quality Harmony, Reverb and Echo effects
Central encoder knob with 4-colour light ring for easy editing and parameter control
Unique built-in microphone stand grip
Extremely durable ABS plastic body
Innovative Anti-Feedback and Adaptive Tone controls
Provides 48V phantom power for use with condenser microphones
Stereo Audio I/O for painless integration with your rig
Dedicated, custom preset storage and recall buttons with HIT on/off
Built in 4-in/8-out USB audio interface for recording
​Specifications:
Microphone Input:
Connector: XLR
Input Impedance: 2.8 kOhm balanced, 1.4 kOhm unbalanced
Max Input Level: -29 dBu to +2.5 dBu
Phantom Power: +48V
A to D Conversion: 24 bit, 128 x oversampling bitstream, 115 dB SNR A-weighted
Aux Input:
Connector: 1/8" stereo unbalanced mini jack (summed with Inst Input)
Input Impedance: 5k Ohm
Max Input Level: +2.5 dBu
A to D Conversion: 24 bit, 128 x oversampling bitstream, 102 dB SNR A-weighted
Instrument Input:
Connector: 1/4" TRS left and right bal/unbal (summed with Inst Input)
Input Impedance: 10 kOhm balanced, 5 kOhm unbalanced
Max Input Level: +5.8 dBu
A to D Conversion: 24 bit, 128 x oversampling bitstream, 102 dB SNR A-weighted
Main Output:
D to A Conversion: 24 bit, 128 x oversampling bitstream, 115 dB SNR A-weighted
Connectors: 1/4" TRS, impedance balanced left and right
Output Impedance Balanced/ Unbalanced: 200/100 Ohm
Output 0 dBFS: +14 dBu
Dynamic Range: > 112 dB, 20 Hz to 20 kHz
Frequency Response: +0.50/-0 dB, 20 Hz to 20 kHz
Headphone Output:
Connector: 1/8" mini stereo jack
Control:
USB: USB-B (Preset Management, Firmware Updates, USB Audio)
Pedal: 1/4" TRS phone jack
Mic Control using TC-Helicon MP-75 and MP-76 Microphones or Sennheiser e 835 FX c.
MIDI IN: DIN5 MIDI-compliant input, opto-isolated
Power:
External Power Supply. Mains Voltage Input: 100 to 240 VAC, 50 to 60 Hz (auto-select)
12V DC 1A max output
Power Consumption: < 14 W
Weight and Dimensions:
Height: 92 mm
Width: 167 mm
Depth: 170 mm
Weight: 0.48 kg

Perform VK

9 January 2018

Does "Everything" it states and more. They way i needed it to work it seems to work perfectly ie: I am the Keyboardist and have a seperate vocalist (4 piece band with Fem vox). One big thing that came with the new software update was to be able to mute keys from coming out of the main ouputs (so keys and vox can be mixed seperate in the desk) wich you do by holding down the headphone button while inserting the aux in lead wich the signal is coming from my headphone out of my main keyboard (highly suggest updating the firmware to latest version before using...as they state) The new software also gives you button brightness adjustment....you will need it...they are "bright". Tracks perfect to a full sequence/ midi file wich was one of my main concerns as there were no demo's with it tracking to something with multi instruements like drums,bass etc. Can't fault the VK so far....honestly...it's your best ....only choice really for a harmony processor based around a keyboard player....and at Swamp's price and 30 day satisfaction guarentee .....definately. Only down point...as usual...the owners manual...pfft. TC Helicon Perform VK ....5 stars ps: The "tone" button....brilliant.....so many cool things (like beaming setups from the app) that I dont have time to mention.




5

(5)