TC-Helicon VoiceLive Play Electric Vocal and Guitar Effects Pedal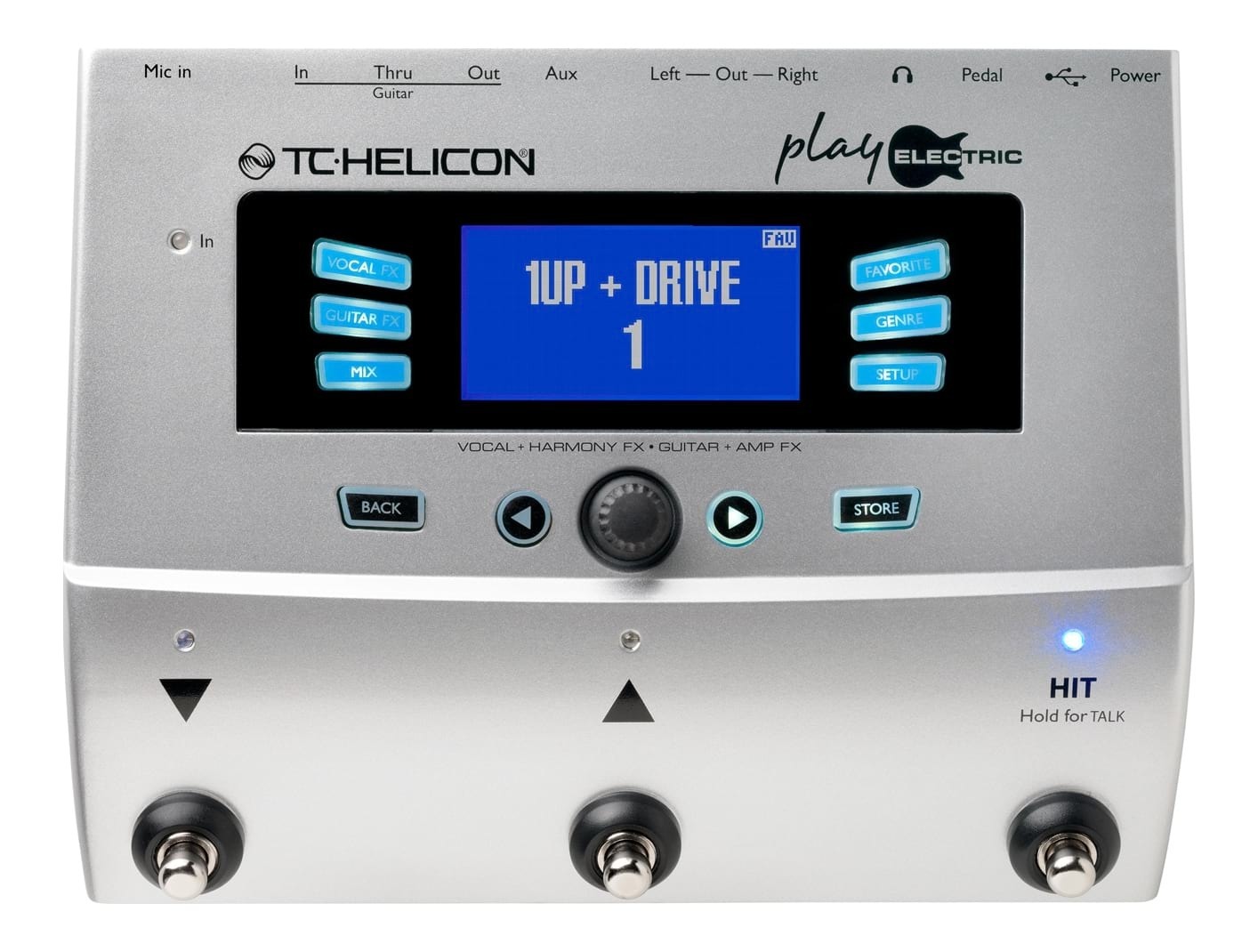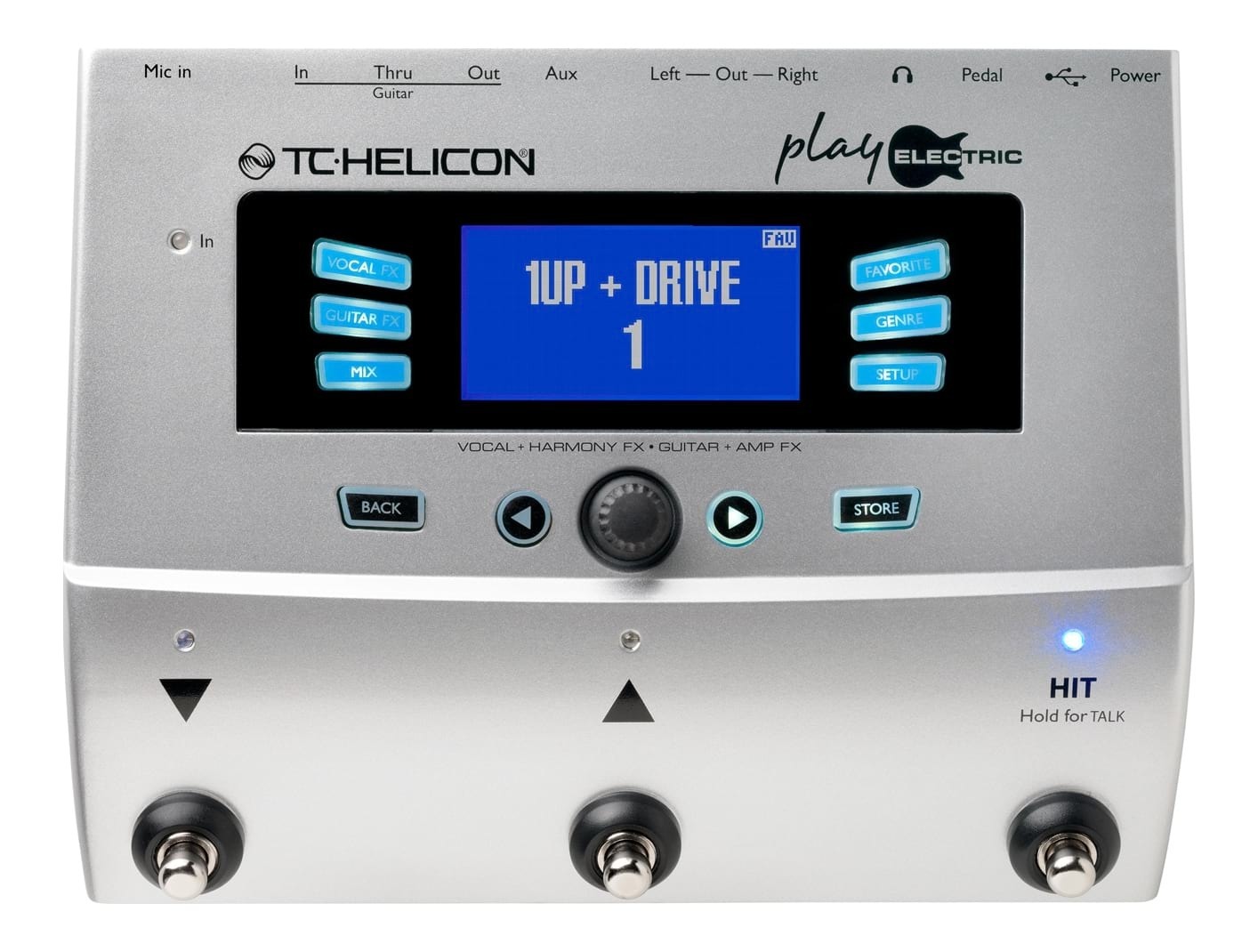 Be The First To Review This Product!
Help other SWAMP Industries users shop smarter by writing reviews for products you have purchased.
TC-Helicon VoiceLive Play Electric Vocal / Guitar Multi - Effects Unit
An extension of the revolutionary VoiceLive Play GTX, the TC Helicon VoiceLive Play Electric is a vocal and guitar multi effects unit specifically designed for use with electric guitar. Incorporating everything that VoiceLive Play gives to singers and adding award-winning TC Electronic guitar effects and amp simmulations, the Play Electric contains everything a versatile performer could want. Artist presets offer signature vocal and guitar sounds while full editing ability allows you to define your unique style. Pro or Practicing, acoustic or electric, VoiceLive Play Electric is the singing guitarist's dream machine.
Great Guitar Effects
Plug your electric guitar into simple-to-use guitar effects including Distortions, Flange, Chorus, Delay, Reverb, EQ and more. The guitar effects on the VoiceLive Play Electric are imported from TC Electronic's Hall of Fame Reverb and FlashBack Delay as well as the latest new algorithms from TC Electronic and TC-Helicon
Premium Amp Tones- No Amp Required
Included is the impressive range of 25 amp simulations, complete with editable control of style, drive, volume and 3-band tone stack. Choose from a classic British, ultra clean or Dark Overdrive setting and adjust it to match your desired sound. No need to carry a heavy guitar amp to the show, as the Play Electric and the authentic sounding simulations are perfectly suitable for running direct into the PA. Versatility in your performance is catered for with the inclusion of a special acoustic setting that turns your electric into an acoustic guitar for those quieter moments.
Pick a Genre, any Genre
Operating and navigating VoiceLive Play Electric is a breeze. The GENRE button allows you to easily browse hundreds of presets. Choose a style that suits you and the Play Electric will list the presets that fit your preference. If you've never used effects before, you'll quickly learn how to find the sound you're looking for with GENRES.
Make It a Hit
HIT is a performance-inspired feature for building intensity into any vocal performance. Every preset has an effect that you can build upon by pressing the HIT button, which adds additional effects on top. For example, you could start with a simple reverb and then "HIT it" to add dazzling harmonies or a raw megaphone effect for emphasis – excellent for making choruses stand out instantly!
Sound Like the Pros
Producers spend more time on perfecting vocals than any other instrument, and the number of layered vocal tracks on a studio recording often run well into the double-digits. Now the same care for creating vocals live or at home is available to everyone.
VoiceLive Play Electric gives singers the opportunity to experience the sound they know and love from their favourite songs with ease. Featuring automatic backing harmonies, vocal double tracking, pristine EQ and compression, lush reverbs, hard-tuned robo-voice – all the the goose-bumps-on-your-arm effects that make today's Billboard hit vocals "pop".
Guitar Controlled Harmonies & Correction
Don't worry about key, VoiceLive Play Electric listens to the Guitar input to set key automatically. You get the perfect sounding Harmonies and Pitch Correction.
A Good Set of Ears
Embedded stereo RoomSense mics can control your harmonies from instruments nearby, replace the cabled mic for headphone practice or add ambiance to your headphone mix.
Loop Around
The VLOOP™ performance looper allows you to create complete guitar and vocal loops for solo jamming or impressive layered live performances. VLOOP is also handy for sound-check; record a short phrase and walk out into the audience to check levels while your "virtual you" plays!
Sing Along with Vocal Cancel
Singing along is a great way of practicing and performing. Plug in your MP3 player via the AUX In connector and use the Vocal Cancel feature to make your voice stand out over the vocals on the original track. You can also record and play back your singing using the USB connection to your computer.
Practice Makes Perfect
Dedicated PRACTICE mode that analyzes your performance in real-time, helping you spot your strengths as well as focus on the areas that might need attention.
Adaptive Tone
TC-Helicon's adaptive tone technology intelligently controls Shape EQ and Dynamics (Compression & De-ess) to provide the perfect tonal balance and add smooth dynamic control to fit in any mix. Best of all it's easy – just set and forget. An adaptive gate can also be added to help suppress feedback and reduce bleed.
Main Features:
Complete vocal path including Tone, Harmony, HardTune, Reverb, Double and more.
Get perfect harmonies using Auto Chord Detection from guitar.
Complete TC and TC-Helicon guitar effects including Distortions, Amps, Flange, Chorus, Delay, Reverb, EQ and more.
Choice of guitar emulation settings including "no amp" and "Acoustic Shape"
Plug in and practice with your MP3 player, or stream tracks and record over USB including a vocal cancel function.
Global adaptive EQ, Compression, De-ess, Gate & pitch correction.
Dedicated Guitar and Vocal FX access/edit buttons
2 Voices of NaturalPlay Harmonies, and 2 voices of humanized Doubling.
VLOOP performance looper with undo/redo for vocal and guitar path.
Loop Time:stereo/mono 15/30 secs with undo, 30/60 secs without.
RoomSense microphones for Auto Key, monitoring and practicing.
Navigate over 170 presets by Genre and mark Favorites.
Practice function with intelligent pitch display tracks and singing stats.
Stereo XLR outputs or Dual mono for separate guitar and vocal outputs.
Aux input for connecting an MP3 player.
Headphone output.
USB for audio streaming and connection to VoiceSupport.
Specifications:
Features:

Amp Modules:
Clean Brit, Cali Clean, UK Clean, Deep Clean, Bright Switch, Warm, Little Thing, Chicken Picker, Brit OD, AC Crunch, Chunky Brit, Lil Champion, Chime Drive, 2×12 Combo, 4×12 Crunch, SWAMPtone, Nasaltone, Brown, Scooped, Metallic, TC Electronic Dark Matter Pedal, OD Pedal, Dark OD Pedal, Distortion Pedal, Acoustic (Flat), Acoustic (Shaped/BodyRez)
Guitar Effects:
Amp Modeling, Delay, Reverb, Chorus,Flanger, Tremolo, Overdrive & Distortion, Compression, Detune, Rotor, Panner, Auto Filter

Vocal Effects:

uMod, Delay, Reverb, Harmony, Double, Transducer, Tone, HardTune, Adaptive Tone and Pitch Correction

Control:

170+ Song Artist Inspired Presets
Memory for up to 500 presets
Direct Access to Favorite, Genre, Mix and Setup Menus
Simple Vocal & Guitar FX Editing via Direct Access Buttons
Preset Up/Down and HIT Footswitch
LCD Graphic Display
Bump Protected Mic Level
Dual Colour Backlit Buttons
Dedicated Effect Block on/off

Design:

Height:

1.8 inches (45mm)

Width:

7.9 inches (200mm)
Depth:
6.1 inches (156mm)
Weight:

1kg

Construction:

Dual Die Cast clamshell design
Acrylic Lens
Punch-cut Metal connection panel
Rubberized footings
Backlit Graphic LCD Display

Connections:
Connections:

Mic Input: Balanced XLR
Guitar: 1/4 inch mono jack input, 1/4 inch mono Thru and Output
Aux: 1/8 inch stereo mini jack input
MIDI: 5-pin DIN input
Main Output: L + R Balanced XLR (mic level)
Headphone Out: 1/8 inch stereo mini jack
Digital Connection: Mini USB

Power:
External Power Supply: Mains Voltage
Power Consumption: <14 W
12DC 0.4A max output

Included in Box:

Region specific power supply
USB cable
User guide
TC-Helicon Sticker
1 year warranty parts and labor
---
Custom Label: TC-VL-PLAY-ELCTC
SKU: TC-VL-PLAY-ELCTC
Shipping Weight: 1.3500