Coming Soon - New Mobile / Tablet Friendly Website!
Posted:
12 July 2016
Synopsis: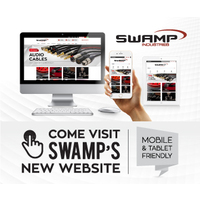 ---
SWAMP's New Website Coming Soon!
Nothing like a freshen up!
While the original SWAMP website has stood the test of time, recently marking 10 years of steady operation. Time has come to bring our customers an improved shopping experience that is optimised for use on any device. We will be launching a brand new website that not only meets the responsive needs of modern internet browsing, but also improves the usability and clarity of vital information. The new website will also coincide with an update in our backend systems, which should enable us to deliver an 'all round' improved experience to our customers.
New Website Features
Our new website will feature a fresh layout and an improved search engine, allowing you to find new products, prices and information easier than ever. We are committed to building the best online Pro Audio shopping experience in Australia.
Built For Mobile Use
We like to move with the times, so our new website has been optimised for mobile use. Now you can shop for all your cabling and Pro Audio needs on the go. Say goodbye to constant scrolling and zoom adjustment!
- Responsive design, suitable on mobile, tablet, laptop and desktop
- Improved search functionality that includes common synomums and misspellings
- Ability to filter product from a range of variables including price, length and connectors
- Clearer ETA information for out of stock products with ability to pre-order
---
Leave a comment