ART CleanBOX Pro 2-Channel Line Level Converter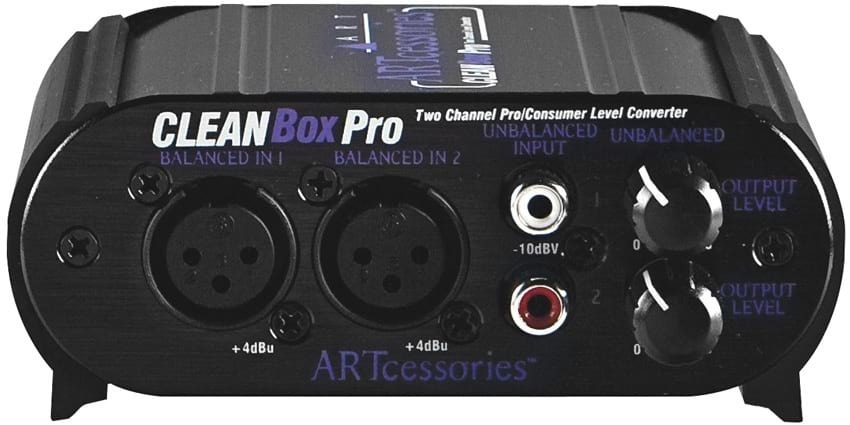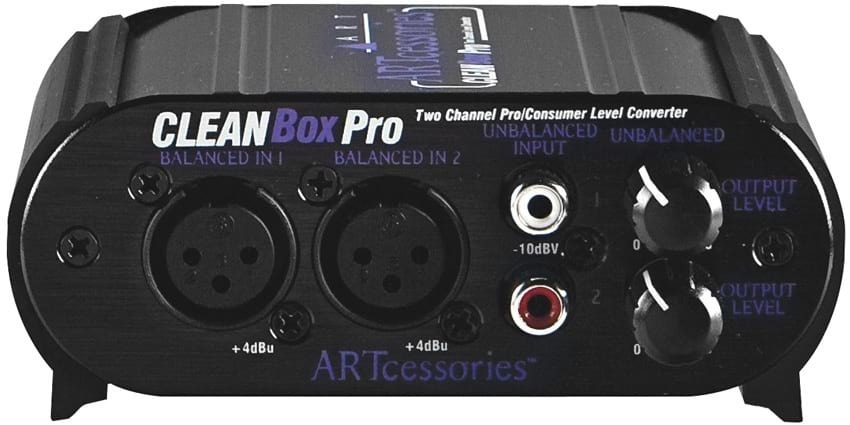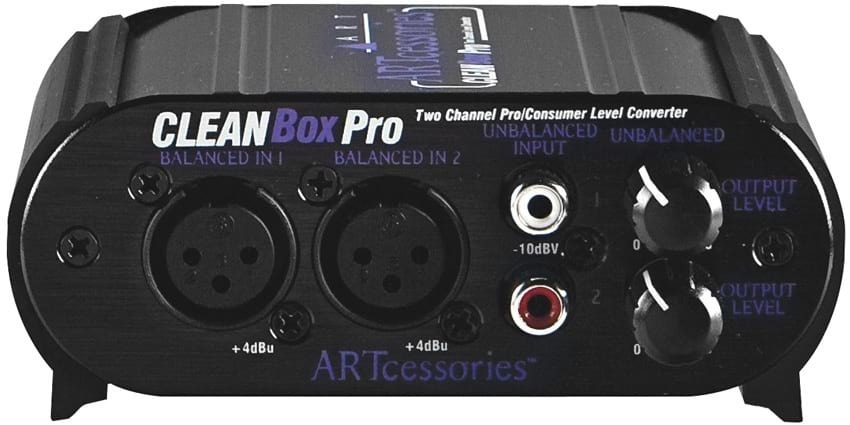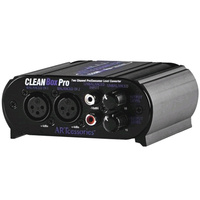 ART CleanBOX Pro 2-Channel Level Converter
This unique device can be used in two ways. It can convert a line level balanced signal into a consumer level unbalanced signal. It can also be used to convert an unbalanced consumer level signal into a balanced line signal. This is used to gain optimal signal strength when transferring a signal between devices with different output and input signal types.
Consumer vs. Line
A consumer level signal, also known as -10dBV, is commonly used for household audio appliances, such as a CD player, or DVD player, PC or Laptop. A line level signal, also known as +4dBV, is used for most pro audio equipment, such as keyboards, mixing consoles, and DJ mixers.
In order to maintain maximum signal integrity it is important to connect the right type of signal into a device. Inputs are usually designed to accept one signal type only, and only this signal type will result maximum signal/noise ratio.
For example: This device would be used to plug a CD Player (-10dBV) into a Pro Audio Amplifier or Powered Speaker (+4dBV) to gain maximum signal transference.
Packed Full of Goodies
As well as converting signal types, this device features a preamp for each output to give it that extra bit of juice. It also has a 1/8" stereo input/output enabling conversion to/from an iPod/laptop/PC signal. The unique power socket allows the device to be powered by a 7.5-12V AC or DCcurrent.
ART (acronym: Applied Research & Technology) are renowned for producing devices that feature unique gadgets and functions that make you think "Why hasn't anyone thought of that before?".

Features:
Provides two channels of level conversion

Does unbalanced to balanced and balanced to unbalanced

XLR connectors for balanced inputs and outputs

RCA phono jacks and stereo 1/8" jacks for unbalanced inputs and outputs

Unbalanced output level control

Balanced output level control

Rugged extruded aluminium case

Lighted On/Off switch

Comes with external power supply for operation with AC mains

Low noise, low distortion circuitry
By:

David Heffernan

on 16 June 2013

Purchased a CleanBox Pro for one of our digital preservation studios. The unit was exactly what we needed, no modifications required. Just connect it into our system and we were up and running.




5

(5)