JOYO JF-16 British Sound Guitar Amp Emulator Pedal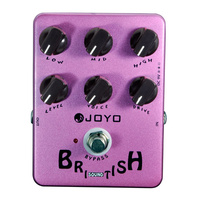 JOYO British Sound - Amp Emulator Pedal
The British Sound guitar pedal is designed primarily to be used in place of an amplifier when you are recording direct into your computer, or plugging straight into the mixing desk in a PA system. Replicating the British Marshall sound of a vintage Marshall JCM 900 through a 4 x 10 cabinet with legendary greenback speakers, this pedal is a great time and space saver when you need to capture that true Marshall flavour in your recordings, but don't have the facilities or budget to spend on mic'ing up the real thing at the high volume to produce the same tones.
3 Band EQ with Level, Drive and Voice controls
By using a combination of EQ and tonal adjustments, the JF-16 pedal enables you move from the classic JCM900 tone through to sounds replicating a Plexi to a vintage Blues gold faced cabinet. Whether beginning with the cleaner tone with the Drive down or with an overdriven tone for solo's (Drive up), you can adjust the Voice control to find the most suitable setting for you. No matter what Marshall style you are after, or what your musical taste, you will find the British Sound amp emulator pedal to be a highly impressive unit.
Features:
Purple with Black Knobs
Silver True Bypass and Octave Up switch
3 Band EQ with Low, Mid and High knobs
Level, Voice and Drive controls
1/4 " jack input and outputs
LED active light
Specifications:
Input Impedance: 1M Ohms
Output Impedance: 1k Ohms
Current Draw: 3mA
Power: 9V DC adapter or 9V Battery
Weight: 390g
Dimensions: 120 (L) x 90 (W) x 37 (H), 60 (H incl knobs) mm
Excellent value stack-in-a-box

23 June 2017

I ordered this on a Wednesday night and it arrived herein suburban Brisbane the following Monday via Australia Post, a day sooner than the tracking initially suggested it would. It does its job as a Marshall emulator very well and at the moment I'm especially enjoying using it in conjunction with a Marshall Guv'nor pedal for solo sounds and using a line switcher to switch to Joyo JF13 and JF14 emulators for clean or differently distorted tones. Using the Joyo amp emulators in this way is proving to be much more fun, much more spontaneous, than fiddling with programming lines of patches on my pedalboards, and the sounds are better. So much for so little money. At the moment, the Joyos are plugged straight into my mixer for recording and rehearsal, but with good stage monitors, there would be no need to take a stack to a gig -- just put a JF16 in the guitar case or gig bag.




5

(5)
Joyo "British foot pedal"

By:

ColinJW

on 21 September 2016

It's great, the pedal has the sound I have been looking for, without having to buy expensive Amps Well done JOYO ****




5

(5)