Neutrik NL4MP 4-pin Speakon Socket Jack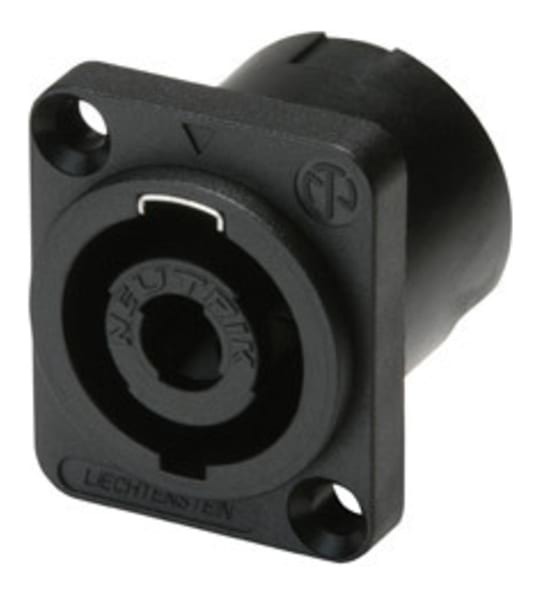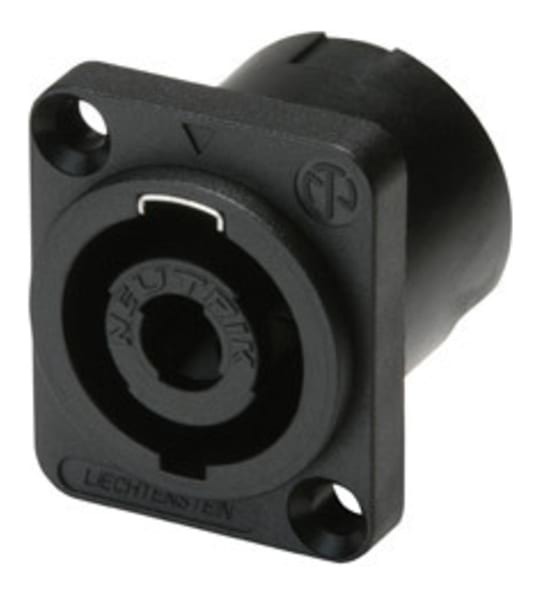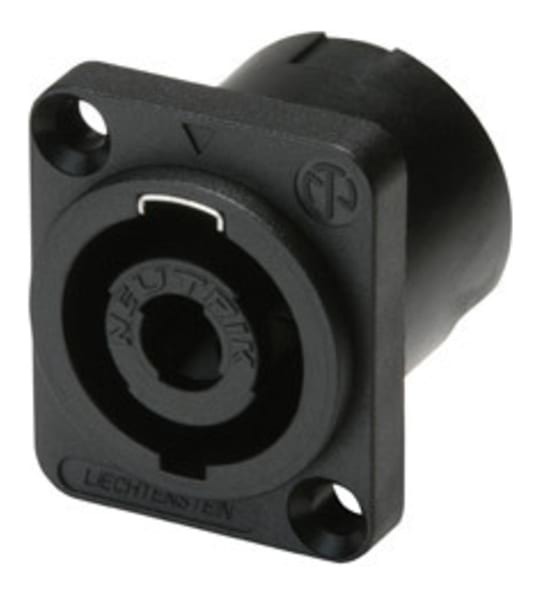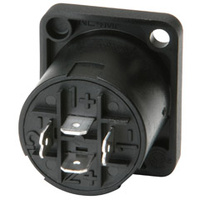 Neutrik NL4MP Speakon socket. This is a single 4-pin male Speakon jack, designed to be mounted on a speaker, power amplifier or patch bay. Used to connect either 2 or 4 core speaker level signals with Speakon jacks.

4 pole chassis connector, black D-size flange, countersunk thru holes, 3/16" flat tabs

The state-of-the-art chassis connector for loudspeaker / amplifier applications.
They feature a unique locking system, robust plastic housing and high current silver plated contacts.
Features & Benefits
Standard current rating 30 Amp

Glass reinforced materials make it extremely robust and dependable

Precise keyway for secure mating

Accurate twist lock latching system

Metal insert in locking area


Airtight design - optimized for speaker applications
Neutrik is the leading brand in audio connectors and offers quality of the highest standards.
Neutrik connectors are used by professional audio technicans and musicans alike.
By:

Lorenzo

on 6 August 2013

What you are refering to(top 3 strgnis) is a Power Chord, and the truth is that is not exactly the same as not playing all the notes on the chord, at least not intentionally.When you play the G-chord you are supposed to play the notes G B and D, not necessarily in that order,when you play a power chord you exclude the 3rd (in this case the B ) which makes the chord not Major nor Minor. It works in some situations like if you are playing Punk or some 80 s rock, but without other instruments defining the quality of the chord (major/minor) you are leaving the melody hanging and believe it or not, your listeners will notice.Be wise when to use a power chord and when not to. It doesn't work with everything.Rock (and all its variations) is one of the few styles that tolerate this.




5

(5)
By:

George Samaras

on 19 April 2013

precise imformation quick to respond




5

(5)
By:

Mr. Marc Morain

on 7 April 2013

Neutrik quality at the right price. Works every time and lasts forever. Worth spending the extra on for piece of mind.




5

(5)