NUX NDS5 Fireman Dual Channel Distortion Effects Pedal
Verdugo Series
NUX NDS5 Verdugo Series Fireman Dual Channel Distortion Effects Pedal
The NUX Fireman is built on a very amp-like distortion pedal with inspired "Brown Sound". It is designed with 2 independent volume and gain control knobs. With its presence, low, high EQ, and "tight" controls, you can go from classic rock to metal tones.
Brown Sound Tone
The Fireman is based on the legendary amplifier builder's famous distortion pedal. It offers a True-bypass / Buffer-bypass toggle switch, and a 9V / 18V toggle switch. The 18V position doubles the working voltage inside to give you wider dynamic range. The buffered/true bypass setting is actually a great addition to the circuit as it can help conserve your tone through a long cable or crowded pedalboard on stage or at home. This is a very gig-friendly pedal with the tough enclosure and design, certainly recommended for the active guitar player, for playing live shows and jamming.
Controls:
BASS: Adjusts the low-end response of distortion sound
TREBLE: Adjusts the high-end response of distortion sound
PRESENCE: Adjusts the ultra-high-end frequency of distortion sound
TIGHT: Shapes the low frequency content. ( Turn it down to tighten the sound.)
VOLUME1: Adjusts the output level while in Channel1
GAIN1: Adjusts the distortion situation of the sound while in Channel1
VOLUME2: Adjusts the output level while in Channel2
GAIN2: Adjusts the distortion range of the sound while in Channel2
1/2 Foot-switch: Chooses the current Channel for 1 or 2
ON Foot-switch: Engages or disengages the distortion sound

Input and Output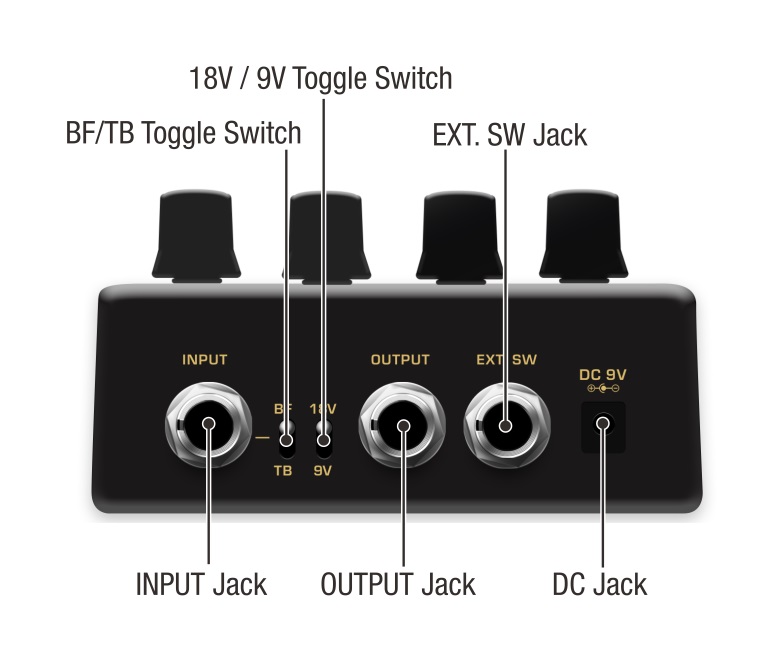 INPUT: Connects with your guitar or the signal from guitar side
OUTPUT: Connects with the amplifier or to the amp side
EXT. SW: Connects with TRS dual foot-switches to replace the 2 foot-switches function on the pedal
BF/TB Toggle Switch: BF means Buffer-bypass, TB means True-bypass
18V / 9V Toggle Switch: The pedal uses 9V power, you can choose 18V position to double the working voltage inside to get wider dynamic range
DC Jack: Connects with 9V Negative Tip power with 100ma adaptor
Features:
Modern Brown Sound in a box
True-bypass / Buffer-bypass toggle switch
18V / 9V toggle switch to get different dynamic range
2 independent GAIN, VOLUME knobs for rhythm / solo application.
Specifications:
Frequency Response: 20Hz~20kHz-±1dB
Input Impedance: 2.2MΩ
Output Impedance: 1MΩ
Power Supply: 9V DC, Negative Tip (ACD-006A)
Dimensions: 105mm(L) x 115mm(W) x 58mm(H)
Weight: 460g

Be The First To Review This Product!
Help other SWAMP Industries users shop smarter by writing reviews for products you have purchased.