ART P48 48 Point Balanced Patch Bay with 1/4" TRS Jack Connectors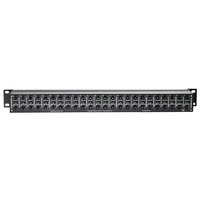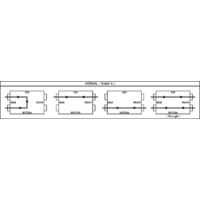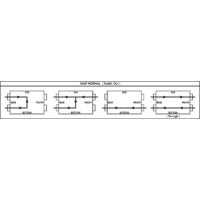 ART 48 Single Point or 24 Channel Linked Point 1/4" TRS Jack Rack Mountable Patchbay
The ART P48 patchbay provides a combination of up to 48 independent or 24 linked point 1/4" TRS jack connections. Perfect for use in a live application, in a studio, or in a corporate application wherever fast and convenient access to the patching of your set up is required and neatness is paramount.
Normal Mode (Switch In)
(Switch in) will by default carry the signal directly through, shown in the second picture in the above diagram. This mode will also allow you to link the rear input with the connection immediately below it. i.e.: Input (1) to Input (25) or Input (2) to Input (26) and so on. When in Normal mode and all 4 parallel connections are occupied, the Top set will become a direct through as will the bottom set in the opposite direction, this configuration is shown in the 4th picture in the diagram above.
Half-Normal Mode
(Switch Out) This mode will allow you to apply all of the same routing as in Normal mode with the added ability to split the signal and send it both directly through and rout it to the output directly below. IE: Input(1) to Output(1) & Input(25) 'OR' Input(2) to Output(2) & Input (26), and so on.
ART (acronym: Applied Research & Technology) are renowned for producing devices that feature unique gadgets and functions that make you think "Why hasn't anyone thought of that before?".
Features:
48 points of balanced, direct signals

or 24 points of linked inputs/outputs

Switchable half normal or normal modes of operation (with through type connectors)
Passive interface
Fully shielded all steel, black enclosure
Reversible rack ears for versatile mounting

Specifications:
Connectors: 1/4" TRS jack Connectors
19inch, 1 Rack unit space
CMRR: >-90dB (typical)
Channel to Channel Isolation : Better than -80db

Dimensions: 1.75"H x 19"W x 3.75"D (44mm x 48.3 mm x 89mm)
Weight: 2 kg
ART P48 48 Point Balanced Patch Bay review

28 August 2017

I purchased an ART PDB4 DI and the build quality seemed solid. As my 11 year old Behringer PX3000 Ultrapatch Pro was starting to get temperamental I decided to give the ART P48 patchbay a go - unfortunately this has turned out to be a frustrating and time-consuming mistake. 1. The TRS connectors are very loose - cables will pop-out with the slightest bit of pressure - the number of times I have had to open up my rack to resolve an input/output issue only to find that yet another cable has come loose. 2. As the connectors are loose, you can easily push the jack in too far thus meaning the tip does not connect or noise results as balanced cables are not seating properly. 3. While the unit only offers Normal and Half-Normal modes (no selectable Thru mode) the switch per channel is on the rear of the unit and can be easily, accidently depressed (setting the input to Normal mode) when handling the unit and/or inserting TRS jacks - once all your jacks are in the unit you have little chance of accessing these switches. Overall, if all your planets align the unit does as advertised, however due to the very loose TRS jacks it is a nightmare placing the unit in a rack and expect everything to connect/work - will not know how well it handles being transported around until this coming weekend, however I am sceptical that the TRS connectors have the strength to hold the cables in under any duress.




2

(2)