ART PRO VLA II 2-Channel Vactrol Tube Compressor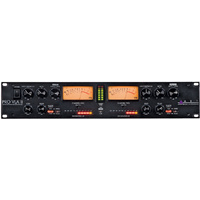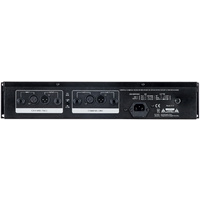 Be The First To Review This Product!
Help other SWAMP Industries users shop smarter by writing reviews for products you have purchased.
A Versatile Two Channel Leveling Compressor
The ProVLA II is a tube driven Vactrol®-based Compressor / Leveling amplifier designed to excel in any professional audio environment. Superior performance and an incredible tone makes the ProVLA II and indispensable tool for tracking, mixing, mastering, dynamic control of live sound sources or for use in broadcast audio.
Advanced Design and a Clean Signal
ART's compression circuitry is a hybrid design combining advanced analog and tube technology. Capable of delivering a more musically natural sounding and sonically transparent compression than other units in its class, this VCA-less design coupled with a 12AT7 vacuum tube in the gain stage makes the Pro-VLA II the ideal dynamic control device for all audio applications. A transformerless design ensures exceptional signal integrity with extremely low noise and low distortion is achieved in the ProVLA II.

Vactrol® Technology
Unlike typical compression units that use Voltage Controlled Amplifiers (VCA's) to handle level detection, the Pro VLA II's Opto-electronic design presents a transparent and musical sounding compression without sounding aggressive or un-natural. This Vactrol based optical electronic circuitry is the basic component of the classic highly sought after compressors of past. Vactrol® design allows the ProVLA II to react to audio signal in much the same way the eye naturally adjusts to fluctuations in light levels - smoothly, quietly and almost imperceptibly.
Soft Knee Leveling
The ProVLA II is a soft knee leveling amplifier by design. Although capable of providing dramatic compression effects, the ProVLA II was designed to excel in any application where transparent, expressively musical dynamics control is desired.
Comprehensive Metering
Large highly visible backlit analog VU meters accurately display input and output levels while extremely fast 10-segment LED's display gain reduction. For added functionality, the LED's display either average level for mastering & mixing applications or peak hold for monitoring individual sources when tracking audio.
Versatile I/O
XLR and 1/4-inch TRS balanced inputs and outputs are provided to ensure the ProVLA II can connect with any audio source or hardware. A +4dBu/-10dBu mode switch optimizes ProVLA II I/O for either consumer or professional equipment.
ART (acronym: Applied Research & Technology) are renowned for producing devices that feature unique gadgets and functions that make you think "Why hasn't anyone thought of that before?"
Features:
VCA-Less Vactrol Opto-Compression Design
Mastering Quality Audio Signal Path with Tube Gain Stage
Enhanced Link Mode - While in stereo link mode, channel 1 level control acts as a master output level and channel 2 becomes a balance control between them, - optimizing the Pro-VLA II for use as a mastering tool
Variable Threshold, Ratio & Output Controls
LED Backlit VU Input/Output Level Metering
LED Metering Indicates Both Average Level And Peak Hold
Accurate Ten Segment LED Gain Reduction Metering
+4dBu/-10dBu Mode Switch Optimizes Pro-VLA II For Interface with Professional OR Consumer Grade Components
Active Balanced XLR And ¼-Inch Inputs & Outputs
Toroidal Transformer Reduces Mechanical & Electrical Hum
Technical Specifications:
| | |
| --- | --- |
| Equivalent Input Noise | @+4dBu: -99dBu (''A'' weighted) / @-10 dBV: -107dBu (''A'' weighted) |
| Maximum Attenuation | 30dB |
| Input Impedance | 10K Ohms |
| Maximum Input Level | +20dBu (in +4dBu mode) / +10dBV (in -10dBV mode) |
| Maximum Output Level | +20dB max |
| Frequency Response | 10Hz to 100KHz (+/- 0.5dB) |
| Dynamic Range | > 100dB (20-20KHz) |
| Attack Time | 0.25msec. to 50msec. variable |
| Release Time | Variable 150ms to 3s |
| Total Harmonic Distortion | <0.1% (typical) |
| Slope | Variable 2:1 to 20:1 |
| Dimensions | 3.5" x 19" x 9.2" (8.9cm x 48.3cm x 23.3cm) |
| Weight | 10.5lbs (4.76kg) |
---
Custom Label: ART-ProVLA2
SKU: ART-ProVLA2
Shipping Weight: 5.8000