$268.99
RRP $369.00
Pre-Order Est. Dispatch 05 December
We're currently matching a competitors price!
Found a better Price?
Price match now
If your prefer to wait until the stock has arrived:
CLICK HERE TO
'GET NOTIFIED'
once we have stock on hand
or interest free for up to 6 months with
SHOP NOW • PAY LATER • 100% INTEREST FREE
RADIAL ProD2 Stereo Direct Box. Perfect for performing keyboardist's! Enjoy the 'true stereo' sound of your keyboard, without distortion and ensuring ground loops are not present. A More Affordable Radial Direct Box.
RADIAL ProD2 Stereo Direct Box
Perfect for performing keyboardist's! Enjoy the 'true stereo' sound of your keyboard, without distortion and ensuring ground loops are not present.
A More Affordable Radial Direct Box
Following the footsteps of the Radial JDI, the ProD2 is a high-quality ultra-compact passive
direct box that has been specifically developed to allow regional sound companies and
project studios to enjoy the quality of a Radial direct box at a more affordable price point.
The Radial ProD2 is a compact stereo direct box developed specifically to address the needs and challenges of interfacing a stereo keyboard to a professional audio system. This passive DI features two independent channels with separate inputs and thru-puts for the artist's stage amp and two fully isolated outputs for the PA system.
The ProD2 is essentially two ProDI's in one compact enclosure designed for stereo keyboards, DJ equipment and consumer hi-fi systems. The ProDI and ProD2 are housed in an extremely rugged two piece 14 gauge steel enclosure with a book-end-designed outer shell that prevents damage to the switches.
Great For Stereo Instruments: Synths and Drum Machines
At the heart of the design are two high performance Radial transformers. These deliver 20Hz to 20kHz performance with less than 1.5dB deviation above 18kHz and are able to withstand tremendous signal levels without distortion. Unlike active circuits that overload when the signal exceeds the rail voltage, transformers saturate. This creates a pleasing effect that naturally rounds out the tone, acting like a subtle limiter which is particularly advantageous when interfacing the ProD2 with digital pianos, samplers and drum machines that can produce excessive dynamics. Transformers are particularly adept at eliminating hum and buzz caused by ground loops.
Durable, Functional Design and Performance
As with all Radial products, the ProD2 is built tough to handle the rigors of professional touring. A 14-gauge steel ultra rigid i-beam skeleton frame eliminates opportunity from outside stress to flex the sensitive PC board and cause premature solder joint failure. The innovative book-end design creates a protective zone around the connectors and switches further increasing life span. And a full bottom no-slip pad adds mechanical isolation and electrical insulation to further reduce opportunity for noise.
The Radial ProD2's warm sound, legendary build quality and compact design have made it the most popular stereo direct box made today.
The Radial ProD2… Spectacular performance at a price that anyone can afford!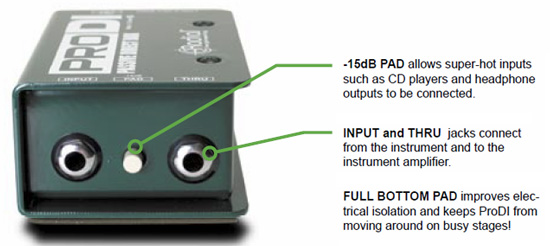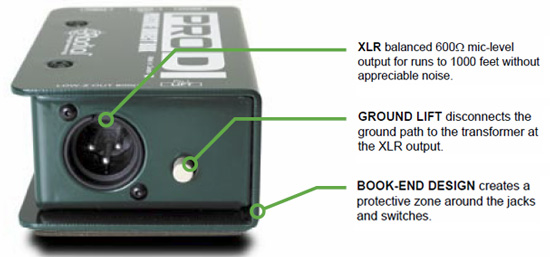 Note: Pictured above is the Radial ProDI, Technical Specifications are similar to the ProD2.
The difference is that the ProD2 is stereo, and the ProDI is mono.
Features:
Great sounding, rugged passive DI
High performance custom-wound transformer
-15dB PAD for wide range of input levels
Ground lift switch eliminates ground loop hum
Interface consumer audio with pro gear
Eliminates buzz and hum caused by ground loops
Ultra-tough design, to last a lifetime
'Plug & play' easy-to-use
Completely passive, no power needed
3 year transferable warranty
Stereo direct box designed for keyboards
Smooth, warm sound rounds out digital edge
Able to handle huge transients without choking
May be rack mounted for touring rigs
Designed for stereo keyboards and drum machines

Be The First To Review This Product!
Help other SWAMP Industries users shop smarter by writing reviews for products you have purchased.