Ausdom Bluetooth Headphones at SWAMP
Posted:
3 November 2017
Comments:
1 [Post]
Synopsis: Ausdom Bluetooth Headphones are now available at SWAMP Industries. Their look is very appealing, feature collapsible designs, and the standby/talk/play times of the rechargeable batteries are very impressive. Now that's Music to my Ears!

---
Ausdom Bluetooth Headphones now available
SWAMP Industries is thrilled to offer a selection of the Ausdom Bluetooth headphones, a quality range which is becoming quite famous in North America and Europe. There are 6 models in the range available right now. Their look is very appealing, feature collapsible designs, and the standby/talk/play times of the rechargeable batteries are very impressive. These are Bluetooth 4.0 stereo headphones with aptX - Advanced Bluetooth CSR version 4.0, the latest technology giving you a full, balanced and natural sound. They pair seamlessly with phones, tablets, computers, TV's etc. If the battery runs out, simply plug in the supplied 3.5mm cable and continue listening - however, only audio listening is available when wired, you cannot use the inbuilt microphone for answering phone calls. Overall, the workmanship quality is incomparable with other models available in the price range.
Ausdom M07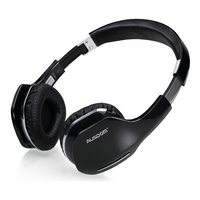 Starting with the lowest priced model, the M07, these on-ear headphones immediately feel solid in your hands, and incredibly comfortable to wear. The earmuffs are made of artificial protein leather material that has a specific perforation design which prevents the concentration of heat and moisture. With their excellent sound quality and a punchy bass, it is ideal for all active people out and about.
Ausdom M06, M05 and M08
The M06, M05 and M08 models deliver wirelessly an outstanding 250 hours of standby, and 20-25 hours of talk / play time, requiring only 2-3 hours of full recharge of the lithium-ion battery, with maximum wireless distance of 10m from your device. As with the M07, these models can be used as a wired headset if the batteries run out before charging, however, the microphone will not function in this mode. Sonically, these over-ear models use 40mm drivers, and deliver a deep bass response, and a crispness to the upper frequencies. They are super light and comfortable. The controls for volume, and track selection are easy to navigate.
Ausdom AH2S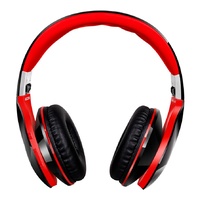 The AH2S advances into a newer category of Ausdom bluetooth headphones, using dynamic 50mm drivers. It is a truly high fidelity headphone which offers a whopping 2,000 hours of standby time, and about 18 hours of playing / talking time. Its foldable design makes it easy to carry anywhere when not in use. It is striking in its design and colour scheme, and wonderfully the earmuffs can be removed and installed.
Ausdom ANC7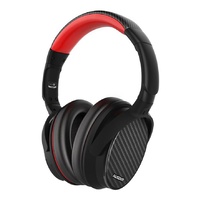 I remember when noise-cancelling technology first came out, and the amount of headphones I tried fell into the category of "oh no'! - bulky battery compartments, awful muddy bass response when active, and uncomfortable to wear. The Ausdom ANC7 has completely blown those models out of the water.
As soon as you take them out of their funky carry case, one realises that this is a serious over-ear headphone - supra-aural soft earmuffs fits the ear perfectly and a lovely understated colour scheme with a carbon design on the side. The standby time is 120hrs, talk/play time is 18 hours. Most importantly, when switched to active noise cancelling mode, it sounds fantastic! The bass is much tighter and less muddy than other ANC models comparable on the market. In fact, I felt like I could leave the noise cancelling on even if I didn't require that feature. And I felt that I could wear them for hours as they were so comfortable - perfect for those long haul flights.
So choose an Ausdom headphone for your needs and give them a try. You will certainly join the growing countless numbers of people around the world who are very happy with these headphones.
---
Related Products
---
Comments (1)
Foldable Headphones

29 September 2018

Foldable Headphones offer a stylish way to listen to your favorite songs playing games, watching movies, and more. Choose from a wide range of foldable headphones at Excelvan.com.
---
Leave a comment