$299.00
RRP $389.00
BACK-ORDER - DISPATCHED AFTER 30 days
ETA confirmed in <24hr - option to cancel
If your prefer to wait until the stock has arrived:
CLICK HERE TO
'GET NOTIFIED'
once we have stock on hand
or interest free for up to 6 months with
SHOP NOW • PAY LATER • 100% INTEREST FREE
The Zoom AC-2 Acoustic Creator direct-in box amplifies your acoustic-electric instrument in ways that will enhance your live performance, thanks to its 16 available tones, built-in tuner, and the Boost button.
Zoom AC-2 Acoustic Creator Direct Box
The Zoom AC-2 Acoustic Creator is a direct box that amplifies your acoustic guitar in ways that will enhance your live performance. With the 16 available tones, including Orchestra, Parlor, Dreadnought, and many more, you have an option for every setting. The AC-2 also has a built-in tuner and a Boost button, making it the all-in-one pedal for your acoustic-electric instrument.
Restore Your Acoustic Tone
With 16 source guitar presets, the AC-2 recovers the sonic characteristics of a variety of guitar types and body shapes. You can choose from dreadnought, upright bass, nylon strings, 12 string, and more.
Simply select your guitar of choice, then choose piezo or magnetic pickup. From there, the AC-2 is ready to reproduce and amplify your guitar's tone with complete accuracy.
Essential DI Features
The AC-2 features a high-quality preamp which boosts your signal and helps restore your true acoustic sound. Add its natural-sounding reverb to increase your acoustic's depth and width, and round out your desired tone with easy 3-band EQ adjustments.
Volume Control
The AC-2's Volume knob automatically controls the preamp's input gain and output level, taking the guesswork out of adjusting sound levels to match. It's all you need to make volume control and setup simple when you're playing live on stage.
Cut Feedback Automatically
The AC-2 is also equipped with an anti-feedback button that automatically locates and eliminates problem frequencies — an essential for live performances.
Balanced In All The Right Places
The AC-2's balanced XLR output (with ground/lift and pre/post control) allows you to easily connect to any PA mixing board or studio console. It also includes two 1/4" outputs for mono or stereo connection to amps, headphones, or audio interfaces.
Tune on the Spot
The AC-2's built-in tuner with its large LED meter lets you easily see when you're in tune.
The Unique Sound of a 12 String
There's no mistaking the beautiful, shimmering sound of a 12 string guitar. With the AC-2, your guitar will retain its natural, chorus-filled tone whenever you're on stage.
Up to 9 dB of Additional Gain
You can also add 9 dB of gain with the tap of your foot using the AC-2's boost function, allowing you to switch from strumming to finger-picking without ever losing a note.
Three Ways to Power Up
Since the AC-2 is designed to enhance your acoustic performances in all environments, it offers a variety of power options. Two AA batteries provide up to three hours of continuous power. Alternatively, you can use the Zoom AD-16 AC adapter for power, or the micro USB port to bus power the AC-2 via your computer.
Features:
16 source guitar type/body presets for accurate tone reproduction
1/4" input
XLR balanced out
Two 1/4" outputs for mono or stereo connection to guitar amps, headphones, and audio interfaces
Reverb effect
High-quality, low noise preamp
Piezo/magnetic input pickup select
3-band equalizer
Input and output gain/sensitivity adjustable via single volume knob (patent pending)
Anti-feedback control
Boost switch for up to 9 dB of additional gain
Built-in chromatic visual-LED tuner
USB connection for firmware updates
Dual output jacks for connection to guitar amps and mono or stereo PA systems
Three power options: 2 x AA batteries, the included Zoom AD-16 power adapter (9V DC in), or bus power via micro-USB port
Specfications:
Source Guitars:

16 types

Sampling frequency:

44.1 kHz

A/D conversion:

24-bit with 128x oversampling

D/A conversion:

24-bit with 128x oversampling

Signal processing:

32-bit

Frequency characteristics:

20 – 20 kHz +1 dB, -3 dB (10 kΩ load)

INPUTS
GUITAR IN:

Standard monaural phone jack
Rated input level: -20 dBu
Input impedance: 10 MΩ

OUTPUTS
1 / MONO / PHONES:

Standard stereo phone jack
(combined line/headphones)

Maximum output level:
Line +7 dBu (10 kΩ or more outuput impedance)
Headphones 8 mW + 8 mW (into 32 Ω load)

2:

Standard mono phone jack
Maximum output level:
Line +7 dBu (10 kΩ or more output impedance)

Balanced Output:

XLR jack
Output impedance:
100 Ω (HOT-GND, COLD-GND), 200 Ω (HOT-COLD)
PRE/POST (switchable)
GND LIFT (switchable)

Equivalent input noise:

120 dBu

Noise floor (residual noise):

-100 dBu

Power:

AC adapter DC9V, 500 mA center negative (ZOOM AD-16)
Batteries: 2 AA (about 3 hrs continuous operation time using alkaline batteries)

USB:

USB MIDI USB Micro-B

Dimensions:

158 mm (D) X 107 mm (W) X 52 mm (H)

Weight:

0.570kg / 1.26 lbs (without batteries)

* 0 dBu=0.775 V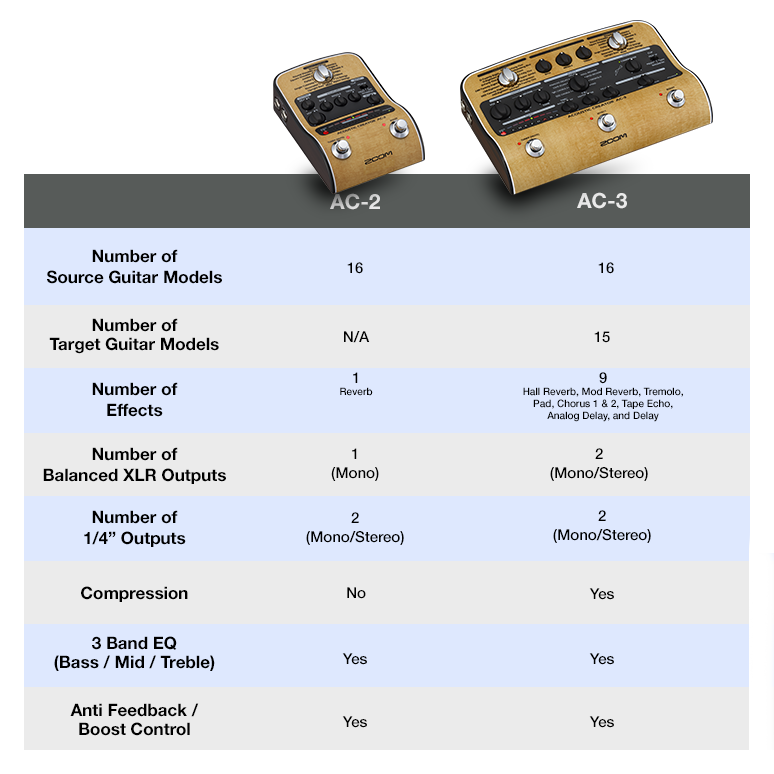 Be The First To Review This Product!
Help other SWAMP Industries users shop smarter by writing reviews for products you have purchased.