ART USB 3-Channel Mixer Audio Interface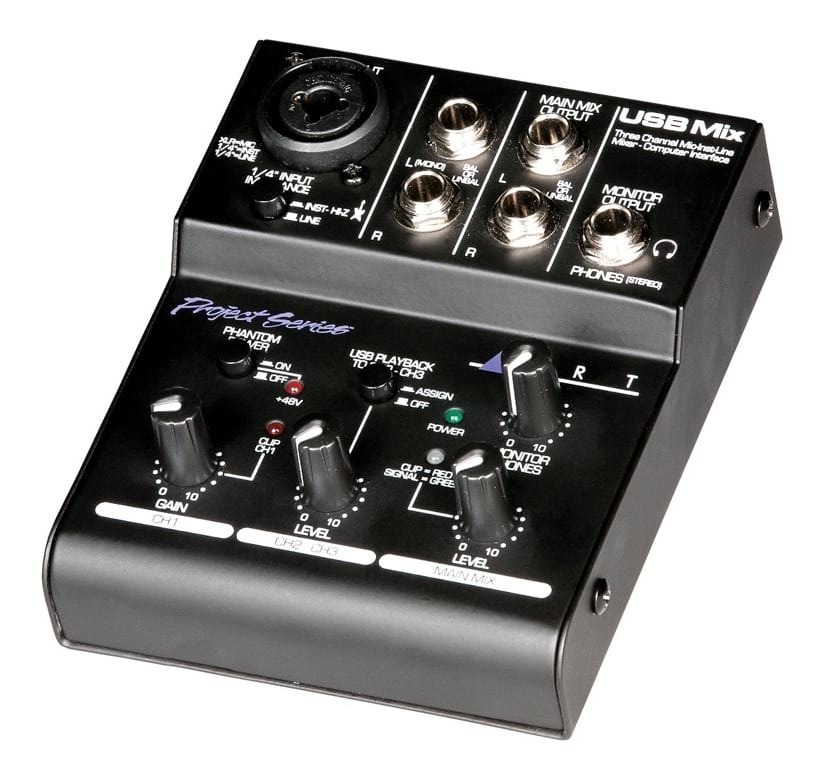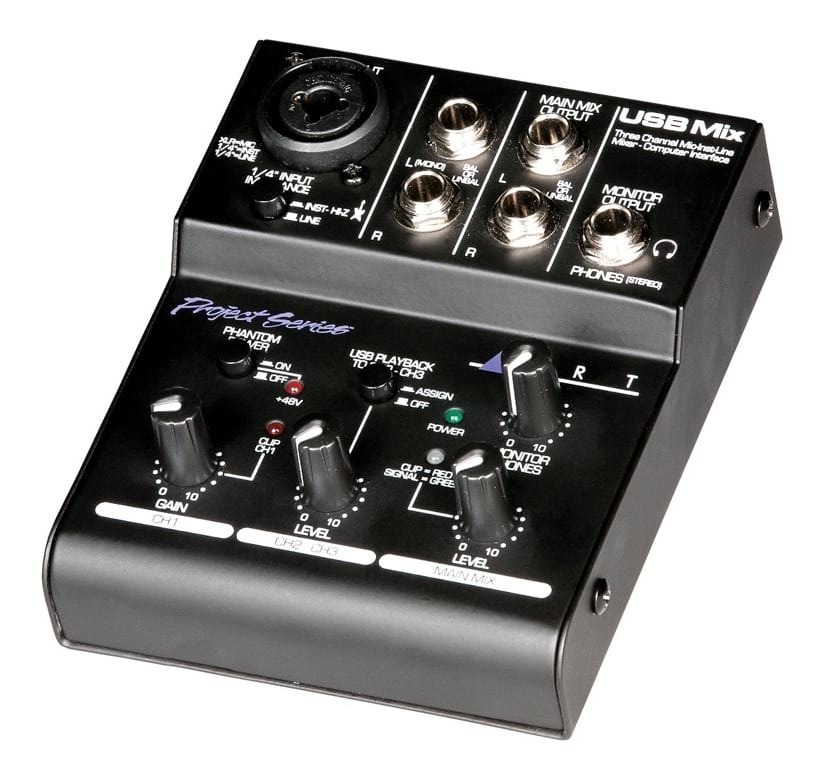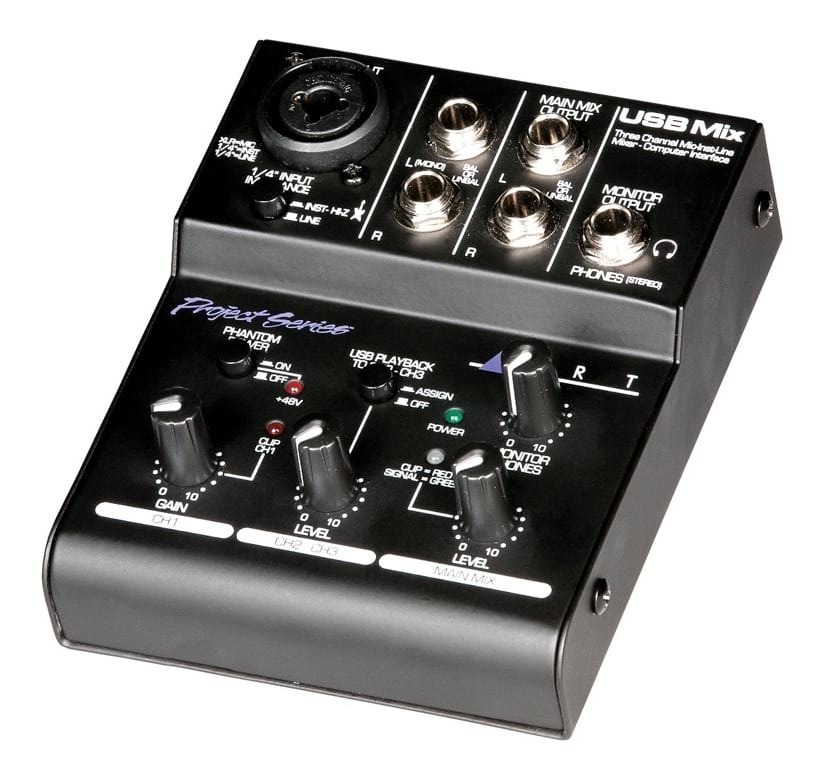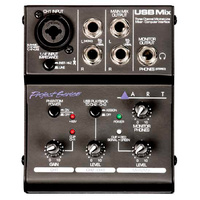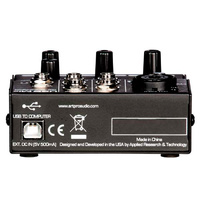 Be The First To Review This Product!
Help other SWAMP Industries users shop smarter by writing reviews for products you have purchased.
ART USB MIX and Interface - An Affordable and Compact USB Mixer/Interface!
This little guy not only provides 3 channels of mic/instrument/line mixing, but it doubles as a USB audio interface for your computer! Powered through the USB connection, this versatile little gadget is a sweet addition to any mobile recording set up. An XLR/TRS combo input is able to take either a microphone level or Hi-Z guitar level or even a line level signal. And another mix channel with stereo (or two mono) 1/4" line inputs allows you to plug in a keyboard or similar. All housed in a compact, durable metal chassis.
Mobile or Desktop Recording
Whether your starting out in the recording game or needing to record on the go, the ART USB Mix is a fantastic choice, giving you all the functionality of a 3 channel mixer as well as an external USB soundcard for PC or laptop! It's all bundled into a tiny steel box that barely takes up the space of a coaster on your desk, and slots into your backpack like a peanut. This, coupled with the fact that it draws all its power needs from a USB port means you can just plug and play, anywhere you go! You even get a separate level control for your headphones! This little pocket rocket is totally awesome. If you're in the market for an audio interface, check out the ART USB Mix.
Plug-and-play USB interface
The USB interface that's built into the ART USB Mix is fully compliant with USB 1.1 specification and uses USB adaptive mode for playback and USB asynchronous mode for record. It will work with the USB audio device drivers built into Windows 98SE/ME/2000/XP/Vista and Apple OS9.1/OSX computers with native USB support. No special drivers are needed.
ART USB Mix Features:
USB powered, no external power supply needed when used with a computer
Balanced XLR or unbalanced ¼-inch Instrument inputs with switchable impedance
Switchable low noise +48V phantom power
Balanced ¼-inch TRS inputs for stereo or mono line-level sources
¼-inch TRS output jacks work with balanced or unbalanced lines
Stereo ¼-inch TRS headphone jack with independent level control for output monitoring
Independent controls for both sets of inputs, main output, and headphone monitor
Green/Red LED signal/clip indicator
Switchable assignment of USB playback to channels 2 and 3
USB 2.0 compliant
USB cable and Audacity recording software included
ART USB Mix Specs:
Input Connections:
XLR balanced / 1/4" unbalanced "Combo" jack (ch1 input)
1/4" balanced or unbalanced (Ch2-Ch3 inputs)
Output Connections:
1/4" TRS balanced (Main Mix outputs)
1/4" TRS stereo (Monitor output)
Input Impedance:
240k Ohms (Inst-HiZ), 20k Ohms (Line) (Ch 1, Ch2-Ch3 1/4" inputs)
> 4k Ohms (Ch1 XLR input)
Output Impedance:
<1k Ohms (balanced 1/4"), <500 Ohms (unbalanced 1/4")
100 Ohms (Monitor output)
Frequency Response:
20 Hz - 20 kHz (+0, -1 dB)
THD
<0.01% @ 1 kHz
CMRR
> 54 dB typical
Phase Response
All connections are phase coherent
Signal to Noise Ratio:
> 90 dB typical (Ref 0 dBu)
Equivalent Input Noise:
-120 dBu typical (XLR balanced, max gain), -100 dBu typical (1/4")
Maximum Input Level:
+4dBu (XLR input), +14dBu (1/4" input)
Maximum Output Level:
+14dBu (Main Mix Outputs), +13dBu (Monitor output)
Maximum Gain (In to Main Out):
+53dB (XLR), +32dB (1/4") Ch1 input
+10dB (1/4") (Ch2-Ch3 inputs)
Maximum Gain (In to USB):
+44dB (XLR), +23dB (1/4") (Ch1 input)
+1dB (1/4") (Ch2-Ch3 inputs)
Maximum Gain (USB to Out):
+14dB (Main Mix outputs), +13dB (Monitor output)
Phantom Power:
Switch selectable, +48V DC, filtered, current limited
A/D-D/A:
16 Bit, 44.1 kHz or 48 kHz, USB selectable from computer
0.4 ms A/D latency @ 44.1 kHz
Computer Interface:
USB 2.0 compliant, Windows 7, Vista, XP, 2000, ME, 98SE
Mac OS 9.1 / OS X computers with native USB support, Linux
Chassis Type:
All steel black finish
Power Requirements:
5.0V DC @ <500 mA (external) or USB bus powered @ 150 mA typical
Dimensions:
1.6" x 4.0" x 4.75" (41mm x 101mm x 121mm)
Weight:
0.5Kg
---
Custom Label: ART-USBMix
SKU: ART-USBMix
Shipping Weight: 0.7000