GAFFGUN Automatic Gaffer Tape Applicator / Gaff Tape Dispenser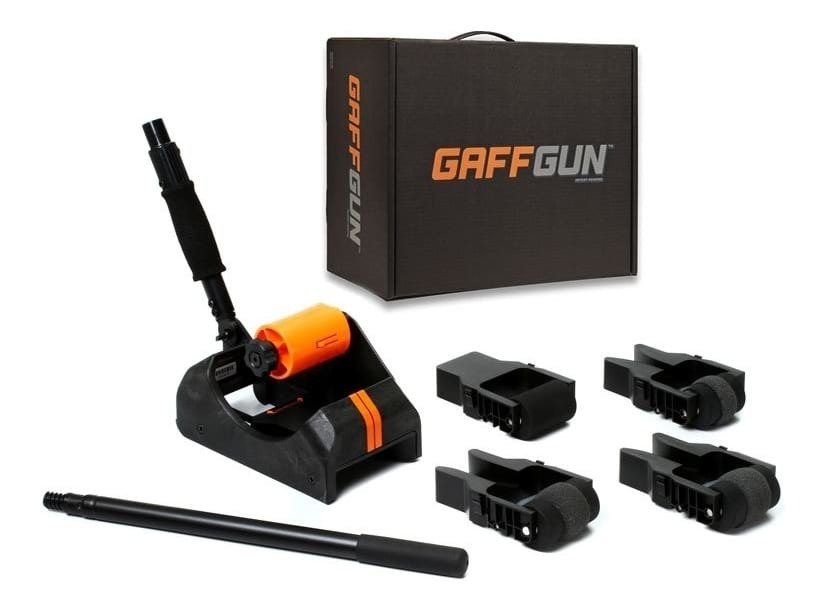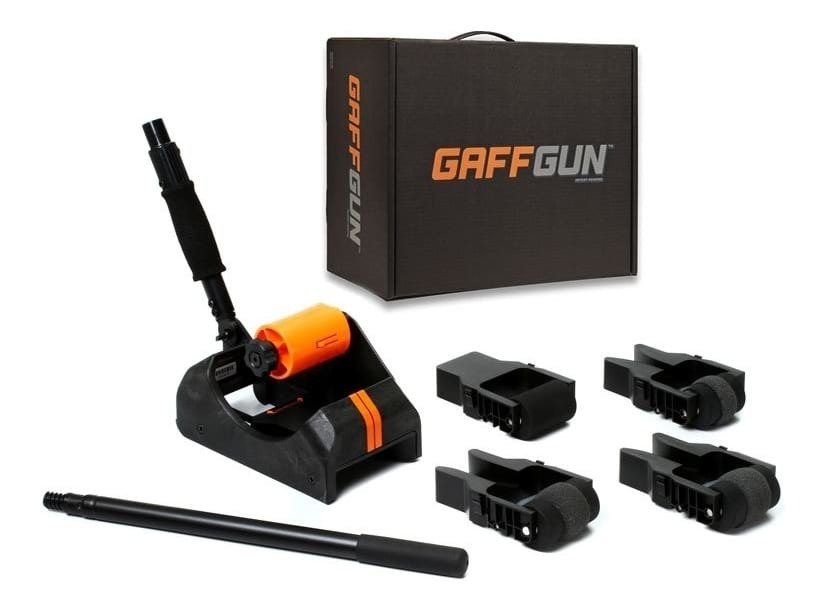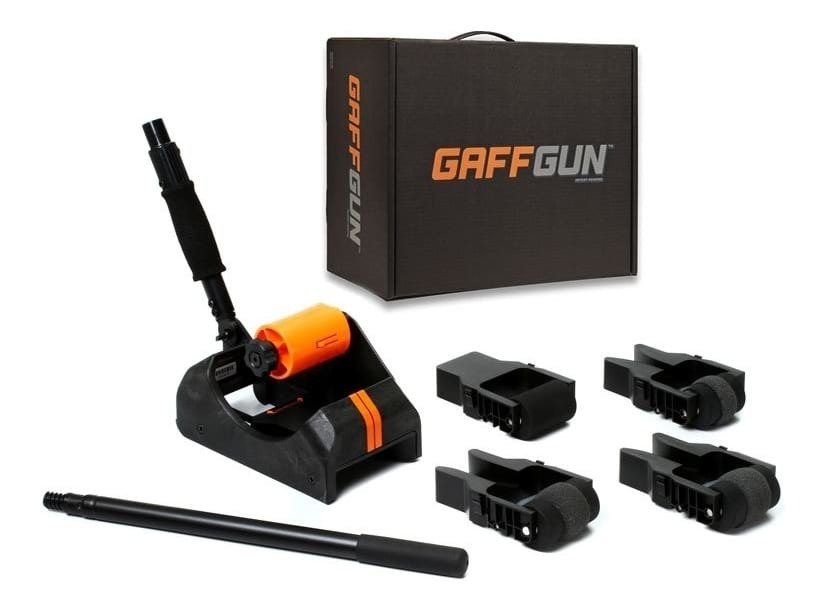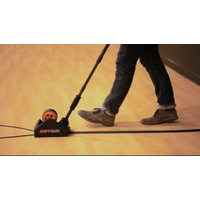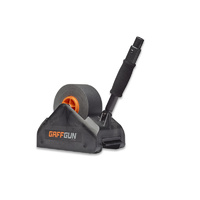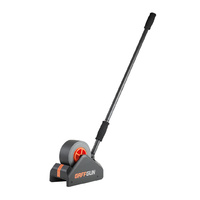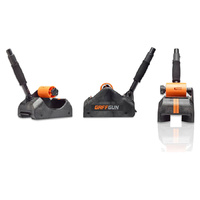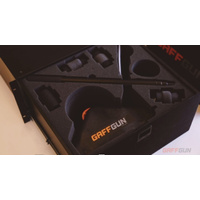 The GAFFGUN Bundle Gaff Tape Applicator and Dispenser
The GaffGun is the most ingenious product to be released in the music / event market in some time and has the potential to revolutionist the way we use Gaff Tape. It is wheeled device with an extension handle that rolls out Gaff tape easily, cleanly and efficiently, taking almost 90% less time to continuously gaff over a cable run than doing it manually. Using the GaffGun to apply Gaff tape will result in less tape being used, all cable runs being neat, and saving crew, gaffers and staff a lot of valuable time.
Multiple Sized Cable Guides
The GaffGun bundle includes 3 different sized cable guides that cater for the number of leads that are to be gaffed. The Small guide is ideal for single or dual XLR cable runs and operates best using 2" tape. Both the medium and large guide use 3" tape, however, the large guide is designed for use over 5 or so XLR cables. These guides are interchangeable and are included in the bundle.
Simple to Use
The GaffGun is the simplest of devices to use. Utilising a funneling action, the GaffGun straightens and centres the cables whilst applying the gaff-tape. The Gun is placed over the cables and the user needs to walk along in a straight line, pushing it out in front and the device does the rest.
For More Than Cables
The GaffGun can be used for more than just microphone, speaker, lighting and power cables. With the inclusion of the floor guide, the Gun is also great for gaffing over cracks on the floor, and securing carpeting, matting, vinyl, on dance-floors, stages, and even office and warehouse floors so there is no risk of slipping, sliding and ensuring compliance with OH&S regulations.
Easy to Store
When opening up your GaffGun bundle for the first time, make sure you don't throw away the packaging as the foam insert surrounding the GaffGun can be used to store it in your office or drawers case. The foam insert will fit neatly into a 5 unit drawer, making it easy to carry around with your system.
CoreLock Gaff Tape
It is recommended that the specially designed CoreLok™ Gaff tape be used in the GaffGun. Although not compulsory to use it, the whole CoreLok™ tape range will fit snuggly onto the GaffGun and has some distinct advantages. For example, using the intelligently designed Dry Channel tape that has the "sticky" part of the tape on the outside edges of the tape whilst leaving a "dry" portion to fit over the cable will result in residue free cables, unlike the sticky residue left from standard gaff tape. Gaffgun's GT Pro gaffer tape is a cotton cloth, synthetic rubber-based adhesive, while the GT Duct is more cost effective solution that features polyethylene coated cloth and a natural rubber adhesive.
Accessories Available
Additional accessories for the GaffGun are available. These included a full range of Core Lock Gaff and Duct tape, tape adapters for use with non CoreLock tape, extra cable and floor guides, 5 unit rack drawers and additional extensions for the handle.
Specifications:
GaffGun with long extension handle
Constructed of heavy duty marine grade material
Cable Guide Small: Use with 2" GaffGun tape for 1-2 XLR cables
Cable Guide Medium: Use with 3" GaffGun tape for 1-3 XLR cables
Cable Guide Large: Use with

3" GaffGun tape

for 3-5 XLR cables
Floor Guide: Use with all widths of tape to secure carpets, matting etc
Optional Accessories available: Gafftech Plastic Core, Tape Adapters and CoreLok™ Tape
Dimensions: 10" (25.4cm) x 6"(15.2cm) x 7" (17.8cm)
Weight: 4.8kg
Included in Bundle:
GaffGun
Long Extension Handle
Three Cable Guides: Small, Medium and Large
Floor Guide (for applications not involving cables)
Storage and Transport Case
Be The First To Review This Product!
Help other SWAMP Industries users shop smarter by writing reviews for products you have purchased.