JOYO Ironman JF-318 Quattro - Digital Delay Guitar Pedal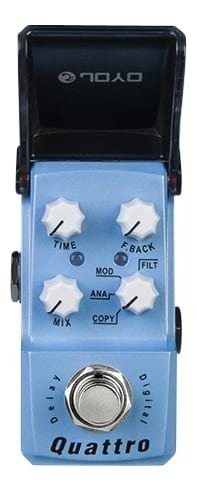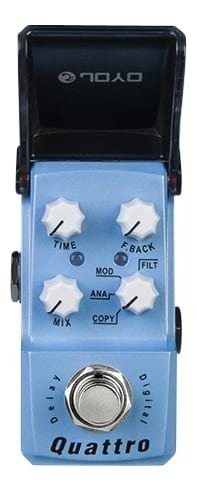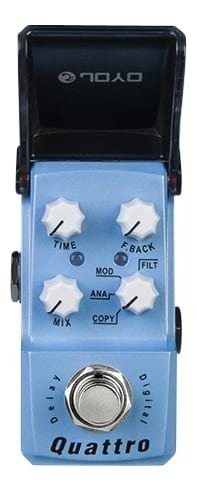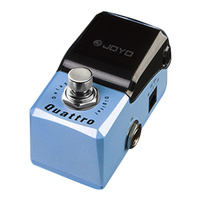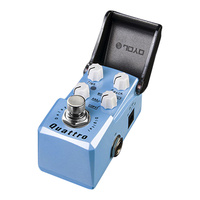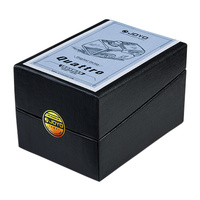 Be The First To Review This Product!
Help other SWAMP Industries users shop smarter by writing reviews for products you have purchased.
JF-318 Quattro - Digital Delay
The Quattro, like the name suggests, is a four mode delay: COPY / ANALOG / MODULATION / FILTERED. The maximum delay time is exactly 958.3ms. COPY is the standard digital delay sound, where the echo sounds as close to the original as possible. ANALOG sounds like the classic bucket-brigade effect, where each repetition sounds degraded with less high frequencies and a lot more smear in the sound. MODULATION adds a chorusing effect to your delays and makes them wider and deeper, which is amazing for spacey clean sounds. FILTERED mode sends your guitar through an adjustable Mid-Frequency filter before it gets delayed. This mode presents many interesting possibilities and you just won't believe it is all coming out of a tiny little pedal!
Protective Flip Cover
All of the Ironman series pedals feature a tough plastic cover that flips over the controls to protect your carefully dialed in settings from wayward feet, effectively offering a practical set and forget tone solution!

Compact Mini-pedal Form Factor
Advances in circuitry design have made it possible for guitar effect pedals to be built in compact enclosures that literally fit in the palm of the hand. The mini design allows more pedals to fit on a pedalboard and helps reduce the overall weight, making them an ideal solution for the traveling guitarist.

Features:
Flip cover design to protect your settings
True Bypass
Mix, Time and Feedback Controls
4 Delay Modes: COPY, ANALOG, MODULATED, FILTERED
Space Saving Mini-Pedal Form Factor
Sturdy All Metal Housing
Solid On/Off Selector Switch
Includes Hook and Loop Strip
Specifications:
Dimensions: W 50mm x D 73mm x H 38mm
Weight: 300g
Power: 9V Negative Centre
---
Custom Label: JY-JF-318
SKU: JY-JF-318
Shipping Weight: 0.3000