M-Series MK2 Version - Improved Mic Preamps, Red Colour Trim
Posted:
31 May 2016
Synopsis: The MK2 version of M-Series mixers have arrived in stock. They feature an improved mic preamp design that increases gain while reducing noise, making the mic inputs ideal for use with dynamic microphones in live and studio scenarios.

---
We are pleased to announce the arrival of the MK2 version of swamps M-series mixer. We took on the feedback of customers and decided to work on updating the preamp design to improve the gain response and reduce noise. After consultation and testing we found a solution that gave us the results we were looking for.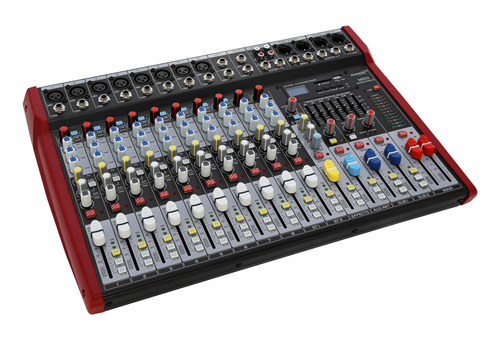 The gain structure is now set in a way that allows for more gain overall while also minimising the noise at the typical gain level that would be used with dynamic microphones. This change makes the M-series mixes ideal for use with dynamic microphones (such as the iSK DM-58/DM-57 and the Shure SM58/SM57) in a live sound scenario.
After a recent batch of mixers was received with a red colour trim due to a factory mistake, we soon discovered that many customers were actually pleased about this change. We also took a liking to this deep red colour, which actually matches our logo and branding nicely, so it was decided that the red trim would be sticking around and was used on the MK2 version which has just landed.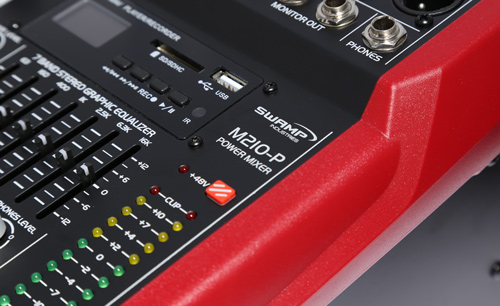 With this improvement to the preamps, we are now very confident to say that the M-series mixing desk are the best value small format analog mixer on the market for bands and groups that require their own PA for small to medium events, and venues that require a simple but functional mixing desk that any musician or event organiser could use.
With the onboard 7-band EQ you can tweak the overall sound, while the 1 reverb/delay effect is simple to use and the effect is ideal for live vocal delay, then the AUX/Monitor out gives foldback option too - the M-Series has all features and performance, and we are pleased to bring this to you at a very attractive price.
---
Related Products
---
Leave a comment