Updating the Firmware for Soundking DM20 Digital Mixing Console
Posted:
24 May 2018
Synopsis: Easy to follow steps to update the firmware for the Soundking DM20 Digital Mixing Console.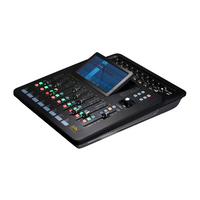 ---
If you're experiencing any unusual or "buggy" performance issues with you Sounding DM20 Digital Mixer, it could be because the operating system requires an update. Keeping the firmware updated ensures smooth operation, fast processing and an overall more robust and stable mixing enviropnment.
Before updating your DM20 firmware, please save any of your current scenes. A firmware update will wipe current setting and any saved scenes, restoring the console to default settings.
To update the firmware, follow the steps below:
Click here to download the firmware update file titled mq16update.zip.
Save the file to a USB stick into the root directory - DO NOT unzip the file.
Put the USB stick into the USB port on the DM20.
Choose the "Setup" button on the DM20, then press System - Maintenance (on the right hand side of the screen).
Select "Update from USB".
If the firmware update was successful, the machine will automatically restart, and you will be able to resume normal operation. Check the system version, it should now the most recent version, "APK:V1.5.4B".
Please do not hesitate to contact a SWAMP team member if you require any further assistance with your DM20.
---
Leave a comment