PANDA200 Versatile Drum Pad MIDI Controller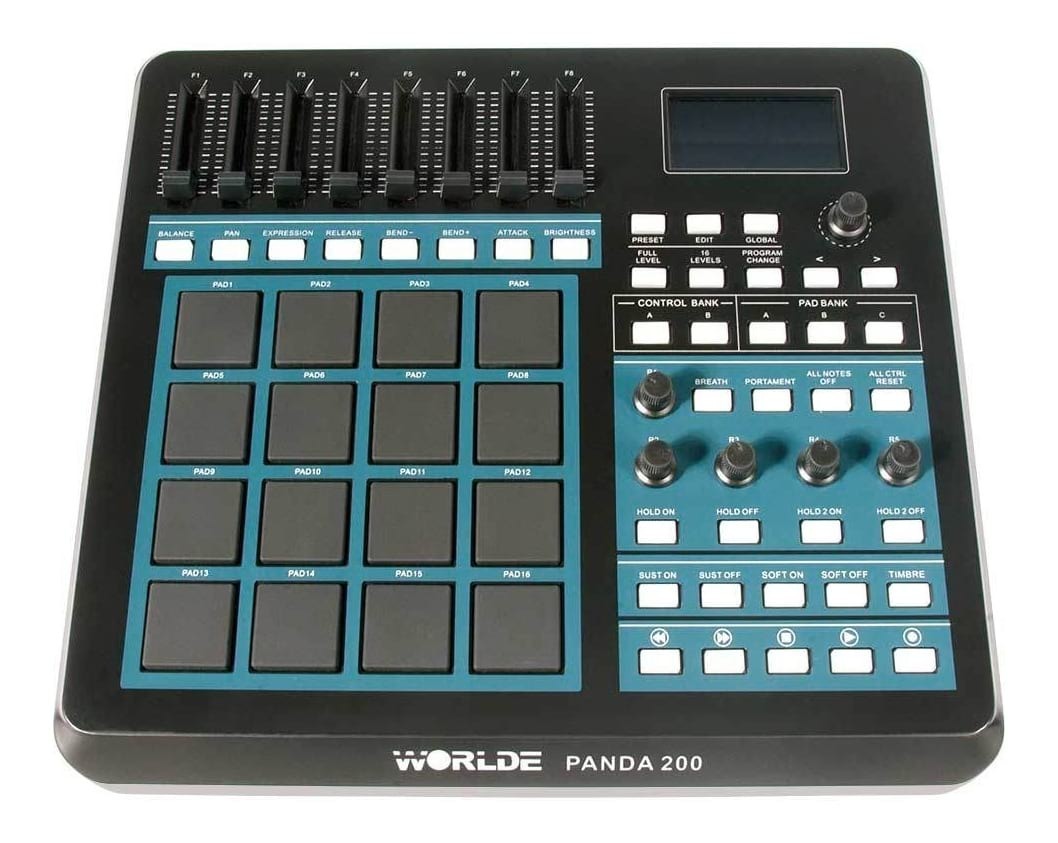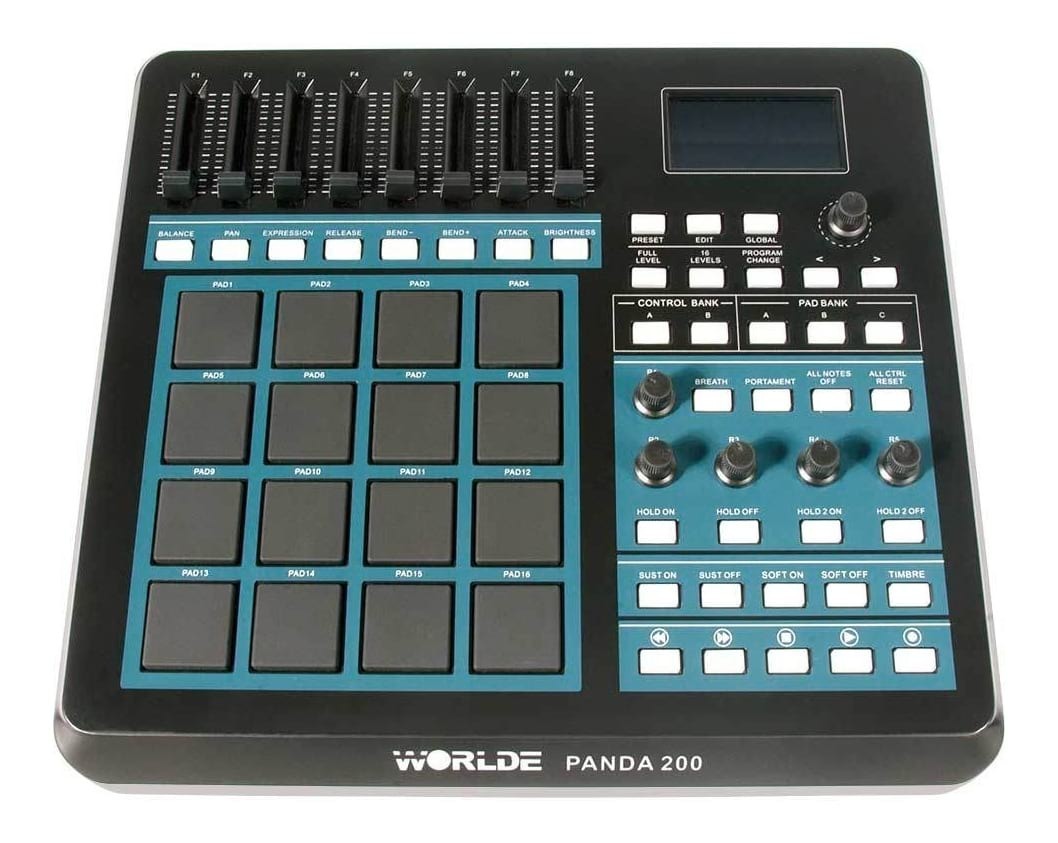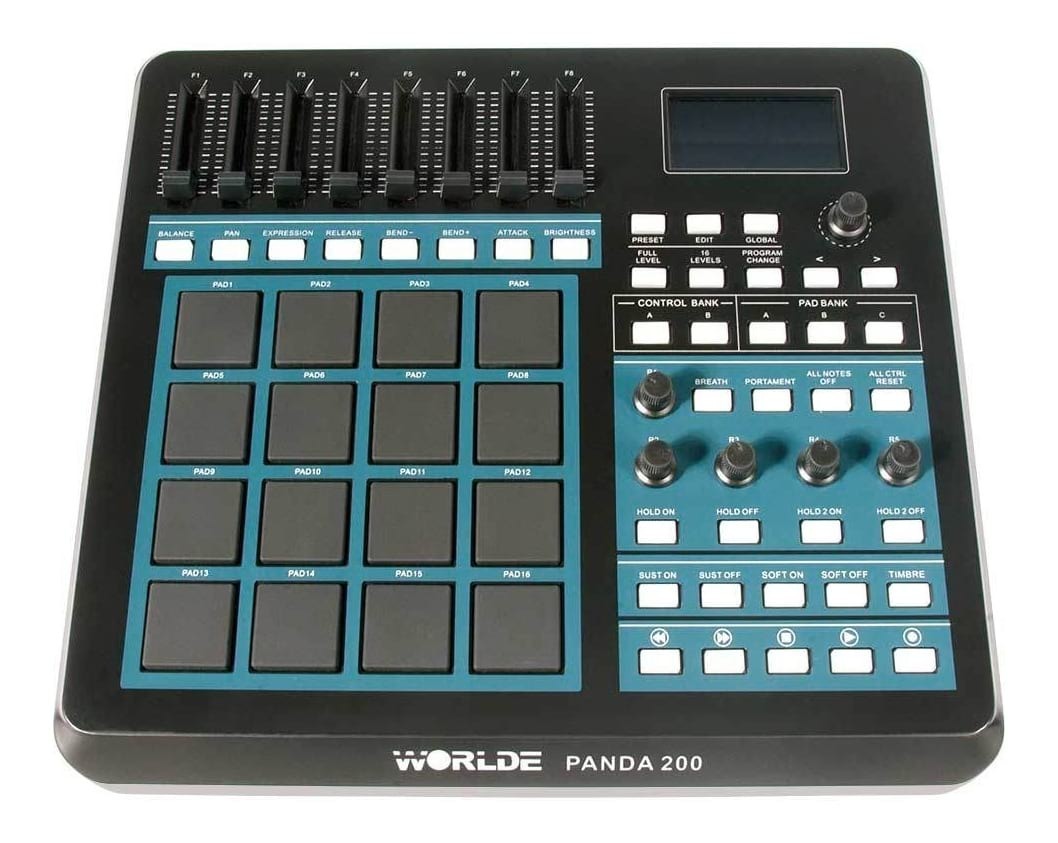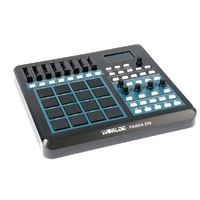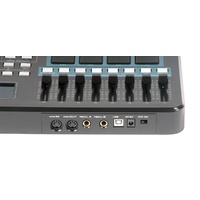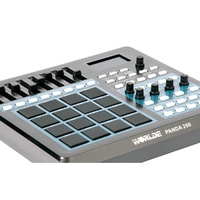 Be The First To Review This Product!
Help other SWAMP Industries users shop smarter by writing reviews for products you have purchased.
WD-PANDA200 Versatile MIDI Drum Pad Controller
This studio quality MIDI drum pad is used to control hardware or software drum machines. It can be used as a master controller with a hardware drum synth as the slave, or controlling any drum machine plugins within your DAW.
Note that this is a MIDI control device only, and doesn't have any built in samples/patches.

16 Playable Pads - Up to 48 Samples
With an impressive 16 touch sensitive (127 velocity) drum pads, and 3 banks to choose from, the PANDA200 drum synth controller can trigger up to 48 different samples at varying volumes so you can have a huge range of samples at your fingertips. This gives the ability to play in full sounding drum beats on the fly, giving them a more human, realistic sound and adding life into your beats.
Essential Faders and Rotary Knobs
A must for any serious drum synth controller, the PANDA200 features 8 sliding faders and 5 rotary knobs. These can be assigned to any function you require. Most commonly you would use the faders to control the volume of the individual pieces of a software kit, and the rotary knobs to control panning or effects.
Handy Utility Controls
In addition, the PANDA200 features a whole host of useful labeled buttons to control your drum synth (they need to be assigned within the software to properly). These include attack, release, expression, timbre, bend and much more. There's even a labeled transport section to play, stop, record etc. within your DAW.
Fully Customizable
The default note assignments for the pads are suited to the standard for most software drum synths (C1 = Kick, D1 = Snare, F#1 - Hi-Hat, etc.). However, you can adjust each pad note in each different bank to be whatever pad note you require. You can also save up to 3 presets, so you don't need to edit the pad note allocation every time you fire the unit up.
In addition, you can also choose between 3 different velocity curves to suit your playing style. These options, combined with other customizable parameters, make the PANDA200 a great choice as a versatile drum synth remote controller for any home or professional studio.
Features:
16 Trigger pads with a full 127 velocities
8 Assignable faders
5 Assignable rotary knobs

5 Assignable transport buttons
21 Additional assignable buttons (labeled for specific functions)
3 Pad banks for different note assignments

3 User presets to save settings to
2 Footswitch control inputs (footswitch not included)

USB interface, adaptable to USB 2.0(FULL SPEED).
Power supplied by USB (cable included)

Compatible with Win 7 / Win XP and Mac OSX.
No Drivers Required
Specifications:
Display: custom LCD w/back light
Dimensions(WxDxH): 33cm x 30cmm x 5cm
Weight: 1.8kg
Power:

~100mA, 5V DC via USB

~1A, 9V DC via external adapter

MIDI output channels over USB: 16
MIDI output channels from 5-pin MIDI: 16
INPUTS/OUTPUTS:


MIDI inputs: 5-pin DINx1

MIDI outputs: 5-pin DINx1
USB: Slave connector x1 (MIDI over USB)
DC in: 6V DC, 1A
---
Custom Label: WD-PANDA200
SKU: WD-PANDA200
Shipping Weight: 2.0000