PZ-Pre Tonebone 2-Channel Acoustic Instrument Preamp
If you're looking for the most powerful pedal acoustic preamplifier available, then the PZ-Pre is a strong candidate. It is ideal for ALL acoustic instruments, including mandolin, bouzouki, violin, cello, and banjo. Designed with a host of features available, it is the class-A PZB piezo boosters, a preamp circuit that will adapt to any pickup system, and the many options in connectivity that sets this unit apart from anything else on the market today.
Compact and Versatile
The PZ-Pre is equipped with two inputs for quick instrument changes on stage. These can also be combined to blend two pickups together if you so desire. Features include a powerful yet warm sounding semi-parametric EQ, feedback eliminating controls including a dual-Q notch filter to surgically remove troublesome frequencies, a high-pass filter to cut low frequency resonance, and a phase reverse switch to eliminate nodal hot spots on stage. It is also equipped with a host of outputs: a 1/4" Hi-Z instrument out for an on-stage amp, a pre-EQ balanced XLR output for the PA system and a post EQ XLR out for stage wedges or in-ear monitors. A dedicated tuner out with mute switch lets you quietly tune on-stage. There's even a combination power booster - effects loop to add sizzle and dynamics to the performance and extra presence when soloing!
PZ-Pre Applications
Using two acoustic guitars on stage
The PZ-Pre is the perfect stage partner for switching between two acoustics. You can have one for backup, alternate tuning or switch from 6-string to 12-string with ease.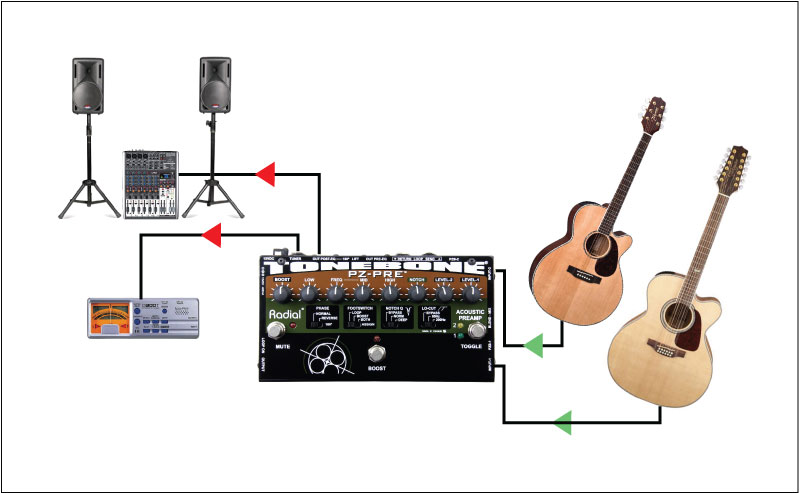 Using upright and electric acoustic
Switch between contrabass and electric or acoustic bass with a simple foot stomp! The PZ-Pre's input is easily optimized to work with finicky piezo pickups for a deeper, more natural tone.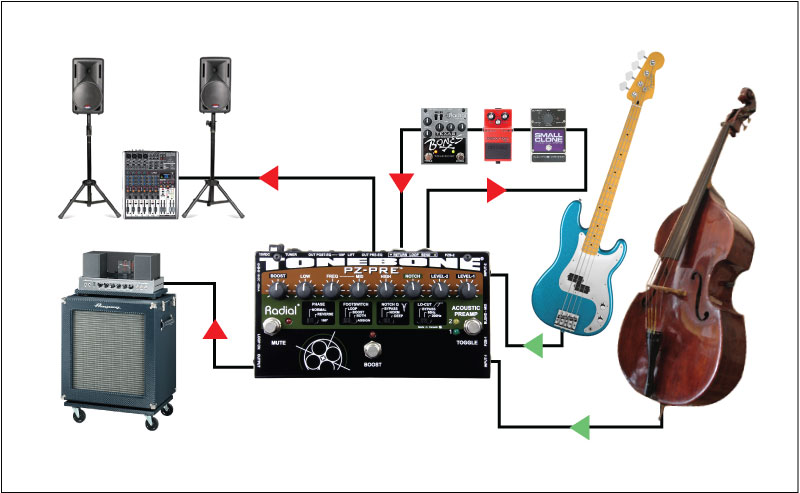 Using the PZ-Pre on violin and mandolin
Using the PZ-Pre with a piezo transducer will give you more gain before feedback than a microphone. You will be surprised at how good a piezo can sound when connected to a PZ-Pre!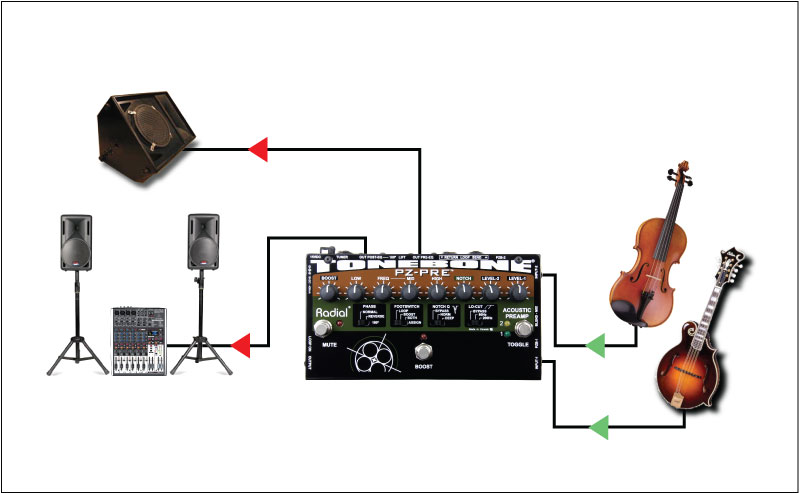 Features:
Designed specifically for piezo pickups
Two channels to switch between instruments
Notch & resonance filters eliminate feedback
Phase inversion
High pass filter
Pre & Post Radial DI outputs for PA and monitors
Power booster and mute for more control on stage
Effects send / return loop
Specifications included in Product Manual above

Be The First To Review This Product!
Help other SWAMP Industries users shop smarter by writing reviews for products you have purchased.