Atlona TYPE-C Mini-HDMI Digital Audio/Video Cable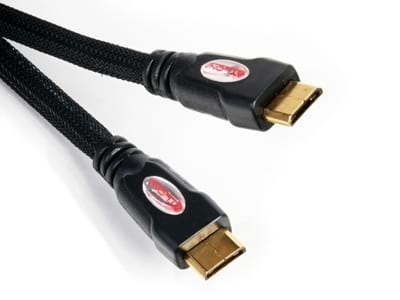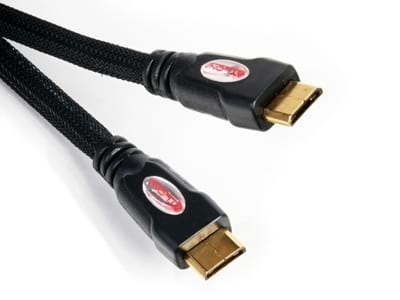 Be The First To Review This Product!
Help other SWAMP Industries users shop smarter by writing reviews for products you have purchased.
Connect HDMI type C multimedia sources ( such as HDTV camera's and camcorders to a display that utilizes this type of connection )
Atlona's HDMI type C ( also called mini ) cable is a perfect solution for those who want to get the best performance out of their HDMI type C compatible digital sources. HDMI mini is new type of a connection which will be widely used by Digital Camera and Camcorder manufactures. Atlona mini HDMI cables are certified for HDMI 1.3a compatibility and therefore are compatible to all possible video resolutions and digital audio standards that are available via HDMI type C connection.
Product Features:
This mini HDMI type C cable is designed to ensure perfect transfer of digital video and multi-channel audio signals. Made of High-Purity Oxygen Free Copper (OFC), the conductor has a very high conductivity, low signal loss and degradation and low electric resistance. All of these result in great signal transmission. Superior High-Density triple shielding technology will reject EM and RF interference, while gold plated connectors will ensure a tight grip. Atlona mini HDMI cable is capable of supporting resolutions up to 1440p or most common 1080p ( 1920 x 1200 )
Applications:
Ideal for connecting mini HDMI type C equipment, such as HDTV camcorders, digital cameras and game consol's to digital displays which utilize the same type of a connection.
How is HDMI type C ( mini ) vs HDMI type A ( standard ):
HDMI Type C cables are very interesting in construction. They are much smaller than HDMI Type A, but carry absolutely the same Audio/Video specs as HDMI Type A. This clearly defines that HDMI Type C will be widely used in portable electronics and such. It is also rumored that televisions will have this kind of port on the front panel. HDMI type C and Type A are backwards compatible. We do have an adapter that will adopt one kind to another.
Features & Specs:
HDMI type C ( mini )

HDMI 1.3a certified ( ATC certified )

Resolution supported: up to 1440p or most common up to 1080p ( 1920 x 1200)

HDMI twisted pair cable construction

24k Gold plated connectors

UL listed

High-density triple shielding for maximum rejection of EMI and RFI

Made by Atlona Technologies
---
Custom Label: AT14037
SKU: AT14037
Shipping Weight: 0.2000