New Digital and Analog TC-Electronic Guitar FX Pedals
Posted:
5 March 2017
Synopsis: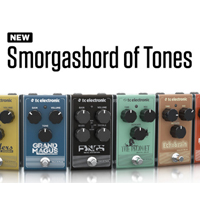 ---
A Smorgasbord of Tones – The new, affordable range of stomp box guitar FX Pedals from TC-Electronic!
All pedals feature a sturdy, bent metal chassis ready for a tough life on the road, a logical and flexible I/O compliment, and of course True Bypass. The idea with this new range was to combine the expertise and technology that tc-electronic has gained over many years, with intelligent manufacturing processes to produce a high quality product but at deliver it a more affordable price point. The range includes both classic analogue and advanced digital circuits, so whatever your needs, tc-Electronic and SWAMP have you covered!
Check out the range of NEW TC-Electronic Pedals here.
World Class Effects Pedals
TC-Electronic specializes in class leading digital effects such as delays, reverbs and gates, but also offers an array of musical, vintage inspired analog effects including distortions, overdrives and boosts. Here at SWAMP we stock many TC-Electronic favourites and can accommodate special orders if we don't happen to have the TC-Electronic product you're after.
TonePrint Technology
TonePrint allows guitarists to edit effects from the dedicated app to create loadable signature sounds that can be stored and selected in digital TonePrint enabled pedals. TC-Electronic offers several custom built versions of classic effects, as well as uniquely tuned sounds built by the best of the best in music from the ground up, with every parameter, knob range and effect value tailored.
About TC-Electronic
TC-Electronic is a Danish audio equipment manufacturer which produces guitar effects, bass amplification, computer audio interfaces, audio plug-in software, live sound equalisers, studio and post production equipment, studio effect processors and broadcast loudness processors and meters.
Every product from TC-Electronic takes sound to a higher level: whether it's guitarists using TonePrint enabled effects pedals, bassists on the ultra powerful and ultra light BG 250 amp, engineers on the acclaimed System 6000 processing flagship or broadcasters relying on the DB6 and other products which have earned TC-Electronic the title of "loudness authority".
---
Leave a comment