SWAMP S18-MK2 18CH Mixing Desk - Compressor - Effects - USB Audio Interface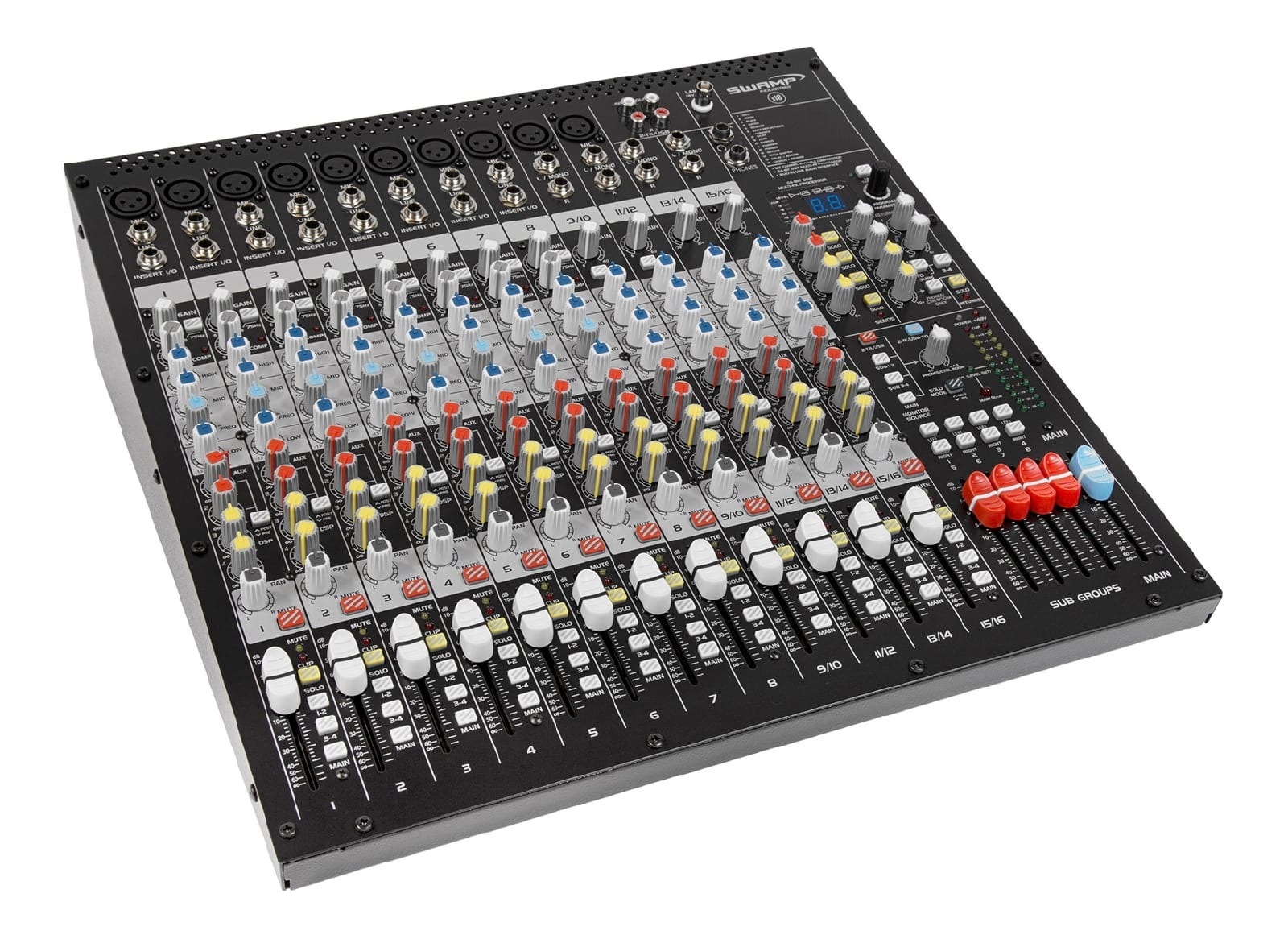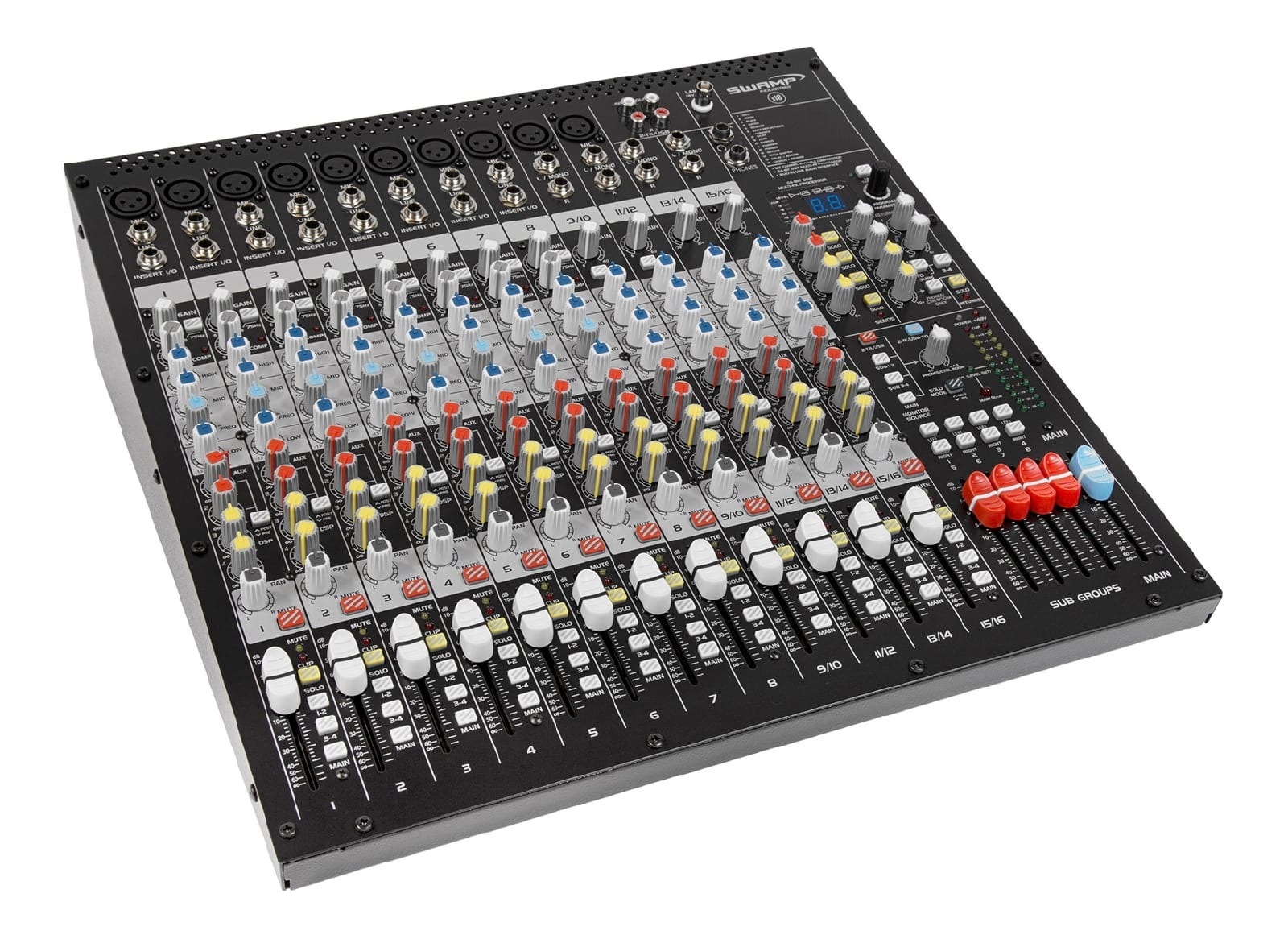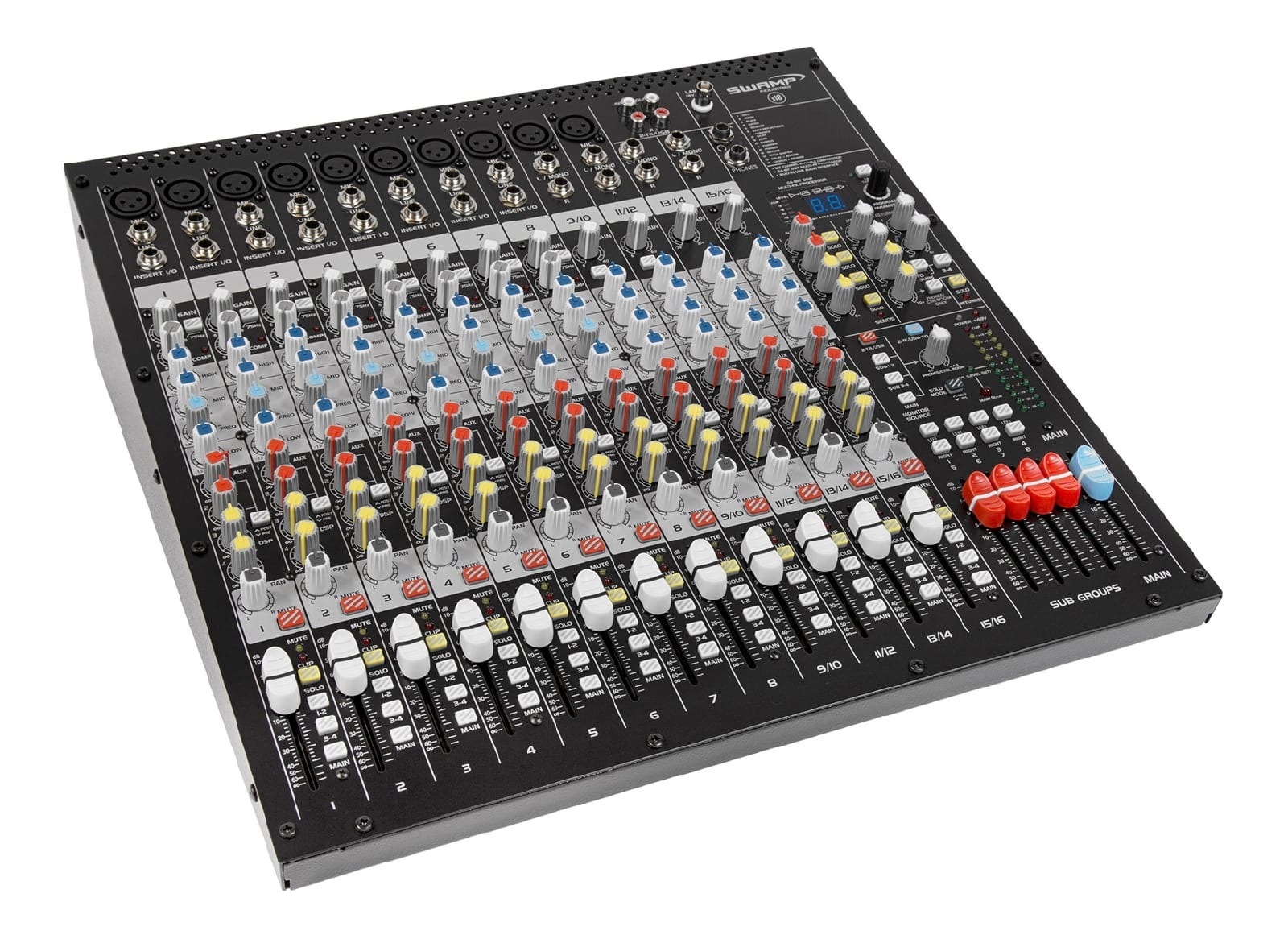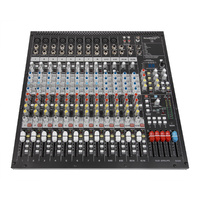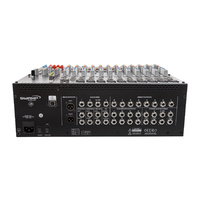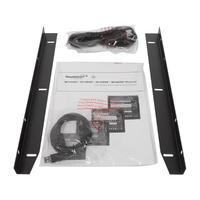 SWAMP S18-MK2 Mixing Desk - 10 XLR Mic Preamp Inputs - USB Audio Interface
SWAMP impressed the market with original S series analog USB mixing consoles and now follow up with the S-MK2 series, featuring improved knobs and faders, robust design and 19inch rack rails included as standard.
The S-MK2 Series mixers combine excellent build quality, stunning sound performance and a remarkable price to offer unbeatable value. On-board Compressor, EQ, AUX and effects options makes the S18 perfect for performing musicians and small bands. A high quality Stereo USB output enables the S18 to be used with confidence, as a home studio audio interface.
Quality V+Z Preamps
Critical to the performance of any decent audio mixer are the in-built microphone preamps. Featuring carefully designed V+Z preamps that offer undistorted, noise-free gain with plenty of headroom, usually reserved for costly outboard preamps units.
In-Built Compressors
The first eight XLR mic channels (1-8) features an in-built, 1-knob compressor that has intuitive threshold, ratio, attack and release presets. Increasing the compression on a channel with lower the dynamic range of the signal and increases it perceived loudness. The loud peaks are squashed down and the quiet sections are boosted. Use the compressor simultaneously with the gain knob for best results.
19" Rack Mountable - Rack Rails Included
The entire S-MK2 mixing desk series are 19" rack mountable, with the rack rails required included with every model. The rack rails simply attach to the side of the mixer with 3 screws already present on the mixer, then it is ready to be placed into any 19 inch rack case or frame.
AUX Sends - Pre or Post
Equipped with auxiliary (AUX) sends, that allow additional "mixes" of channels to be sent from the mixing console to foldback speakers or outboard effects. Ideal for creating foldback mixes for on stage performers. With a "Pre" and "Post" option for EACH CHANNEL, the AUX sends are extremely versatile. The FX channels can also be used as a 3rd and 4th AUX send.
Sub-Group Bus Channels
Being equipped with two (Left+Right) Sub-Group channels enables the sound technician to create additional mixes, that can either be routed back into the main mix, or outputted directly through the sub group output jacks.
In-Built Effects
Each channel has an FX control knob that will send the signal to the in-built stereo effects processor. Includes all the classic preset "mixing effects"; reverb, delay, chorus, flanger, etc. Main volume controls for the FX send and return enable you mix the "dry" and "wet" (effected) signals together for optimal results.
British Channel Strip EQ
Versatile British 3-Band EQ on each mic channel, with a sweepable mid frequency, allowing the frequency of the mid range EQ control to be adjusted. 15dB of level control each way gives the audio engineer plenty to work with. Line Level channels have a 4-band EQ.
USB Audio Interface Functionality
The S-series mixing consoles feature a USB input/output with quality A/D, D/A converters for 16-bit, 48kHz recording quality. The audio sent to the computer from the mixer is identical to the stereo MAIN MIX output signal. Audio from the computer can also be routed back into the mixer signal path for playback. It should be noted that the USB circuit cannot be used to record and playback signal simultaneously.
Features:
10 V+Z mic preamps
4 Stereo Line inputs
Insert (send / return) channels
Intuitive Compression
3-band EQ - Sweepable mids
2 AUX send channels (4 if FX used as AUX)
Pre / Post AUX functionality
On board Effects processor
2 Stereo Sub Groups - Independant Outputs
USB Connectivity
Dual Headphone Output
Specifications:
Maximum Input Level:

Mic +22dBu
Other Line: +20dBu

Maximum Output Level:

Main XLR: +28dBu
Other Output +22dBu

Meters:

3 Colour LED, quasi peak response

Sensitivity:

0VU=+4dBu

Master Meter:

12 Segment, -30dB to Clip

Channel Meter:

Red LED, Clip

Frequency Response

+/-1dB, 20Hz - 30KHz

Mic CMRR at 1KHz:

>70dB Typical

THD+n at +14dBu at 1KHz:

Mic to mix out <0.005%

Crosstalk (@ 1KHz):

Fader Shutoff >89dB
Mute Shutoff >89dB

Noise, rms 20Hz to 20KHz:

Mic Input EIN -129dBu
Main Mixer Fader unity
channel fader down <-95dBu(-97dB S/N)
Main mix fader unity <-82dBu(-86dB S/N)

Channel HPF:

18dB/Oct below 75Hz

Mono 3-Band EQ

High: Shelving +/-15dB - 12KHz
Mid: Peaking +/-15dB - 100Hz to 8KHz
Low: Shelving +/-15dB - 80Hz

Stereo Line 4-Band EQ

High: Shelving +/-15dB - 12KHz
High-Mid: Peaking +/-15dB - 3KHz
Low-Mid: Peaking +/-15dB - 500Hz
Low: Shelving +/-15dB - 80Hz

DSP:

Converter: 24 bit sigma delta, 64/128-times oversampling
Sampling Rate: 40kHz

USB:

Audio: Stereo In/Out
Connector: Type B
Converter: 16-Bit
Sampling Rate: 48kHz

Power Supply:

110-240VAC, 50/60Hz

Power Consumption:

50 Watts

Fuse:

100-240VAC, T 1.6A, 250V, 5x20mm
By:

Steve Clark

on 27 November 2015

A fantastic desk for the price! Loads of versatile options and functions. Very useful, and am very pleased with purchase.




5

(5)
By:

John

on 11 February 2015

Awesome desk guys. Love it! I bought the S18-MK2 Mixing Desk and its a beauty. Especially at this price as well. Really easy to use with plenty of options and goes great with my interface and computer etc. I'm also going to use it for live stuff as well. Great customer service to, you guys are Legends :)




5

(5)